What is NoRedInk Practice?
NoRedInk Practice allows students to master writing and grammar skills that they can apply in their own writing.
During Practice, students answer questions that target specific grammar and writing skills (topics). Questions are adaptive and designed to get harder or easier based on student performance.
How do I assign Practice?
Expand one of the sections below to learn how to assign a new Practice activity or how to assign one as part of an existing unit cycle.
Assign new Practice
To create an independent practice assignment that is not associated with a unit cycle, follow these steps:
1. Head to our Assignment Library by clicking "Browse and Assign" at the top of your screen and select the Practice activity.

2. Choose a category to browse writing and grammar topics.
You can use the search bar to look for a specific topics.
You can also filter topics by recommended grade level.
3. Select the topics that you want to include in the assignment. Click "Assign Practice" when you're done.
You'll be able to see an estimated time for the assignment, but you won't be able to specify the number of questions students will see because Practice is adaptive.
We recommend assigning no more than 2-4 topics per Practice assignment per week.
4. Finally, you'll choose which class(es) you want to receive the Practice assignment. You'll also set a start and due date, and create a name for your assignment.
Ready to assign? Click here to create a Practice assignment from the Assignment Library!
Assign Practice to continue a unit
If you'd like to create a skills practice assignment that is connected to a unit's Unit Diagnostic, follow these instructions:
1. Head to the Assignments page by clicking "Assignments" at the top of your screen. Click the "Continue unit" button and select Practice as your next activity.

2. If you need to make adjustments, you edit topics included and decide who should be assigned to it using the Performance level data.
Practice assignments created in a unit will include the same topics included in the original Unit Diagnostic.
We recommend breaking up your unit into multiple Practice assignments rather than including all topics in one assignment. You can click the "X" icon to remove topics from an assignment.
You will also see each student's Performance level for the topics included in the unit, allowing you to differentiate your instruction and assignments.
What do students see?

Starting the assignment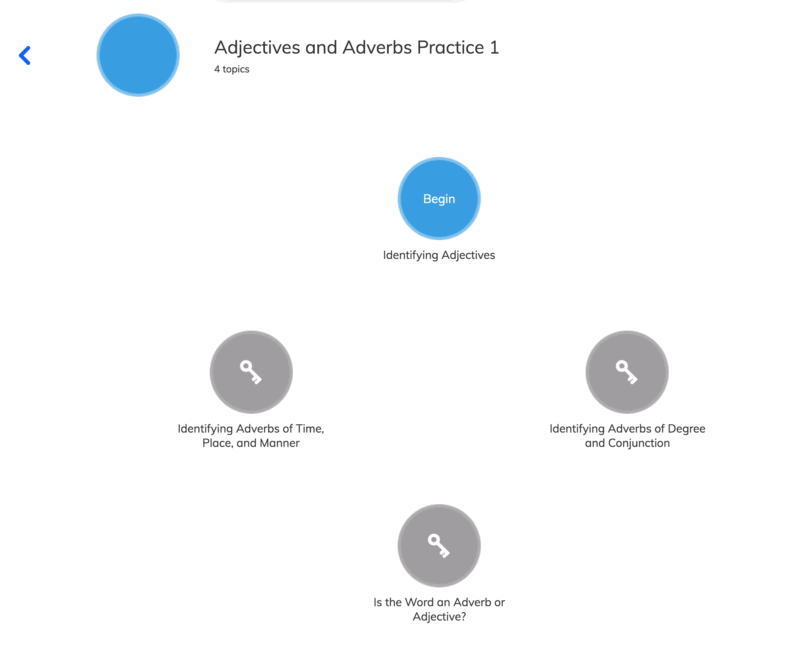 When students open their Practice assignment, they will see the assignment's pathway, where topics are organized by levels.

Students should click on the first available unlocked topic and select "Practice" to start answering questions. Other topics will unlock as students master previous topics.

If students have already mastered topics you've included in the new assignment, they will be presented with a Refresher Quiz before seeing the assignment pathway.
During the assignment
What students see during a practice question (left) and mastery symbol definitions (right)
During Practice, students can come across a variety of question types. These questions incorporate their selected interests to encourage engagement in the assignment.
If students need a quick reminder of how to answer a question, they can click the question mark icon to see a tutorial.
Students will be able to see their mastery progress for the topic they're working (star icons) and the current number of questions left to answer before leveling up (colored bar).
Because Practice is adaptive, the difficulty of questions and length of an assignment automatically adjusts as students work.
Instant feedback and remediation
When students get a question wrong, they receive instant feedback and are shown a lesson to help them understand their mistake.
Student enter a remediation mode where they answer 2 similar questions correctly in a row before returning back to practice.
Teachers will see a notification if students are "stuck" attempting the same question(s) so that you can jump in with additional support. Click here to learn more.
Completing the assignment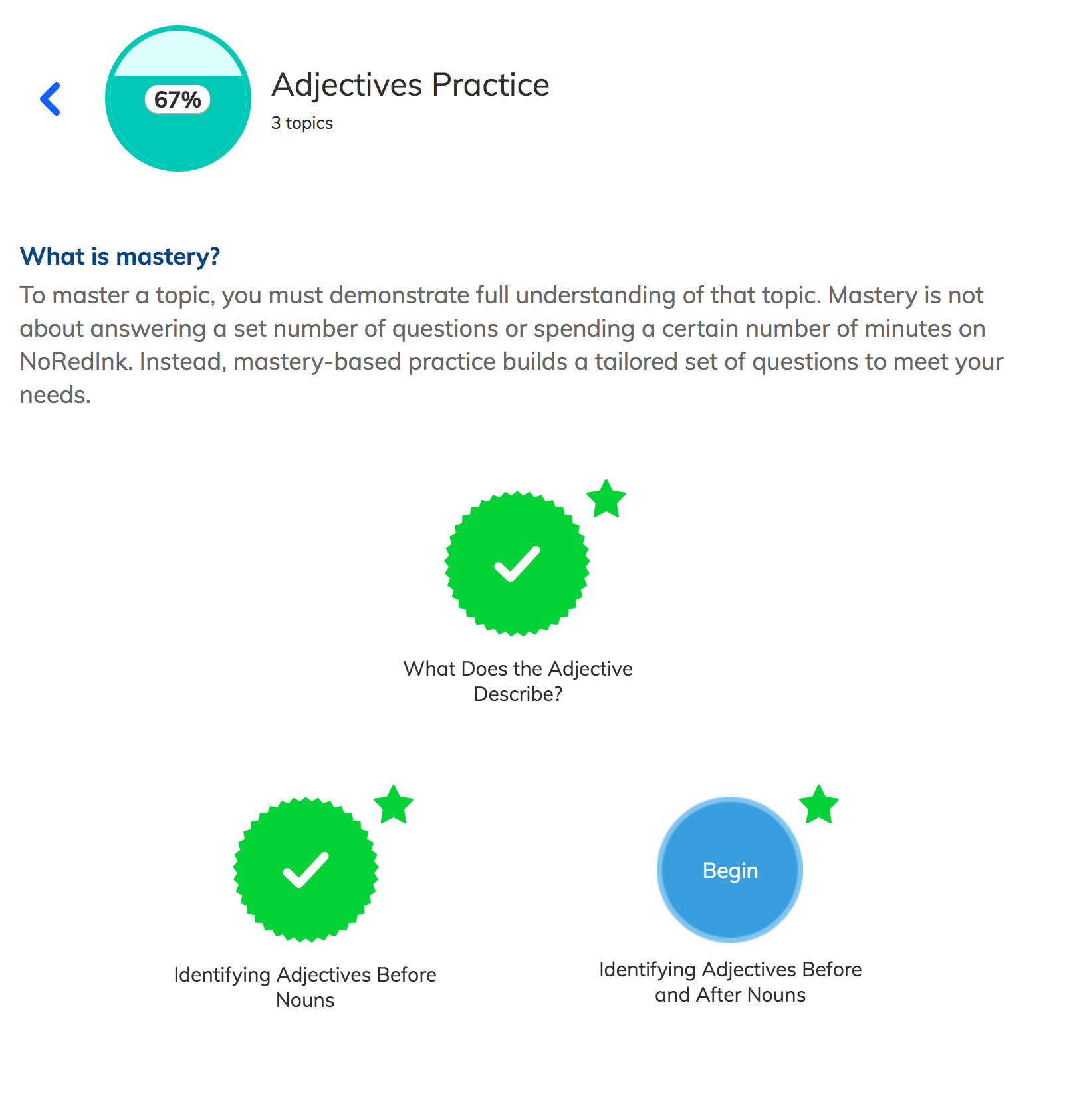 Incomplete Practice assignment (left) and a completed Practice assignment (right)
At any time, students can exit Practice and return to the assignment pathway to check their overall progress in the assignment. The topic icons will adjust to show its current mastery progress in the assignment.

A Practice assignment is complete when all topics in an assignment are mastered. A mastered topic is represented by a green checkmark.
Reviewing their own results
To view the results of their past assignments, students can click "Past Work" at the top of their screen while logged in.
If student want to review their question history from topics they practiced either in assigned Practice or during independent practice, they can do this from the Learn page. Click here to learn more.
Want to preview your assignment as a student?

Once an assignment is created, you can click the eye icon on your Assignments page to preview it.
You can also preview active assignments using the view as a student mode, which allows you to see what students in your class will experience.
How do I view student results?
Tracking mastery progress for an assignment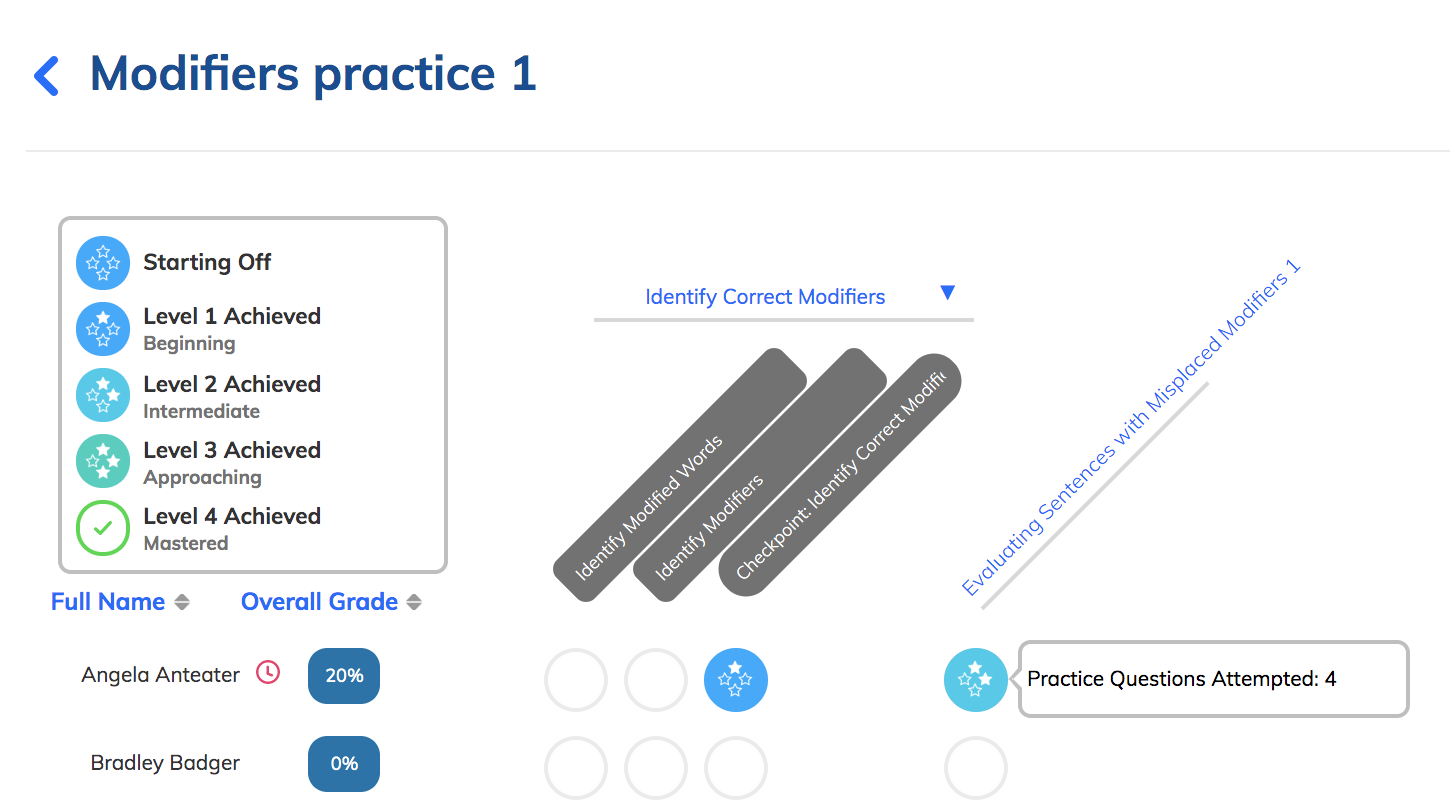 To view the results of your Practice from your Assignments page, click on the graph icon
next to the assignment. You can also click on the assignment's name from the Student Data "Grades" tab to view the results.
Under the "Overall Grade" column, you'll see the student's current assignment results. You'll see a breakdown of their current progress for each topic in the other columns, represented by their mastery level (a mastered topic is 4 completed levels).
Hover over a mastery level icon to see how many questions the student answered in that topic. Remember, because Practice is adaptive to students' performance, this number can vary.
Want more tips? Click here to learn more about interpreting Practice assignment results and student mastery progress.
Reviewing scores in your gradebook



To get to your gradebook, click on the Student Data tab at the top of your teacher dashboard. You'll find students' scores for their assignments in the Grades tab.
While students work, their score adjusts to represent the percentage of topics they are mastering. A score of 100% means the student has mastered all topics in the assignment and the assignment is therefore complete.
Keep in mind that these scores can change since students can continue working on assignments until the due date or even after the due date, if late work is allowed.
Best practices and tips
Pre-teach concepts before students start practicing and then use assignment results to inform additional instruction and flexible learning groups. Click here to learn how to show students sample practice questions.
Celebrate students' accomplishments as they master topics. Click here to learn about Learderboards.
Combine skills practice with NoRedInk writing activities to meet different learning objectives. Click here to assign pre-made skills building Quick Writes prompts from the Assignment Library!
Additional resources