What are Passage Quizzes?
Passage Quizzes allow students to practice their skills in the context of a high-interest, multi-paragraph passage.
Each Passage Quiz prompts students to evaluate and correct a 3-5 paragraph text. There are two types of passages:
Passage Quizzes, which review a specific set of skills (such as verb tense)
ACT® and SAT® Passage Quizzes, which include a variety of highly-tested language skills in one assignment.
How do I assign a Passage Quiz?
1. Head to our Assignment Library by clicking "Browse and Assign" at the top of your screen and then choose "Assessment."
2. On the next screen, select the Passage Quiz activity.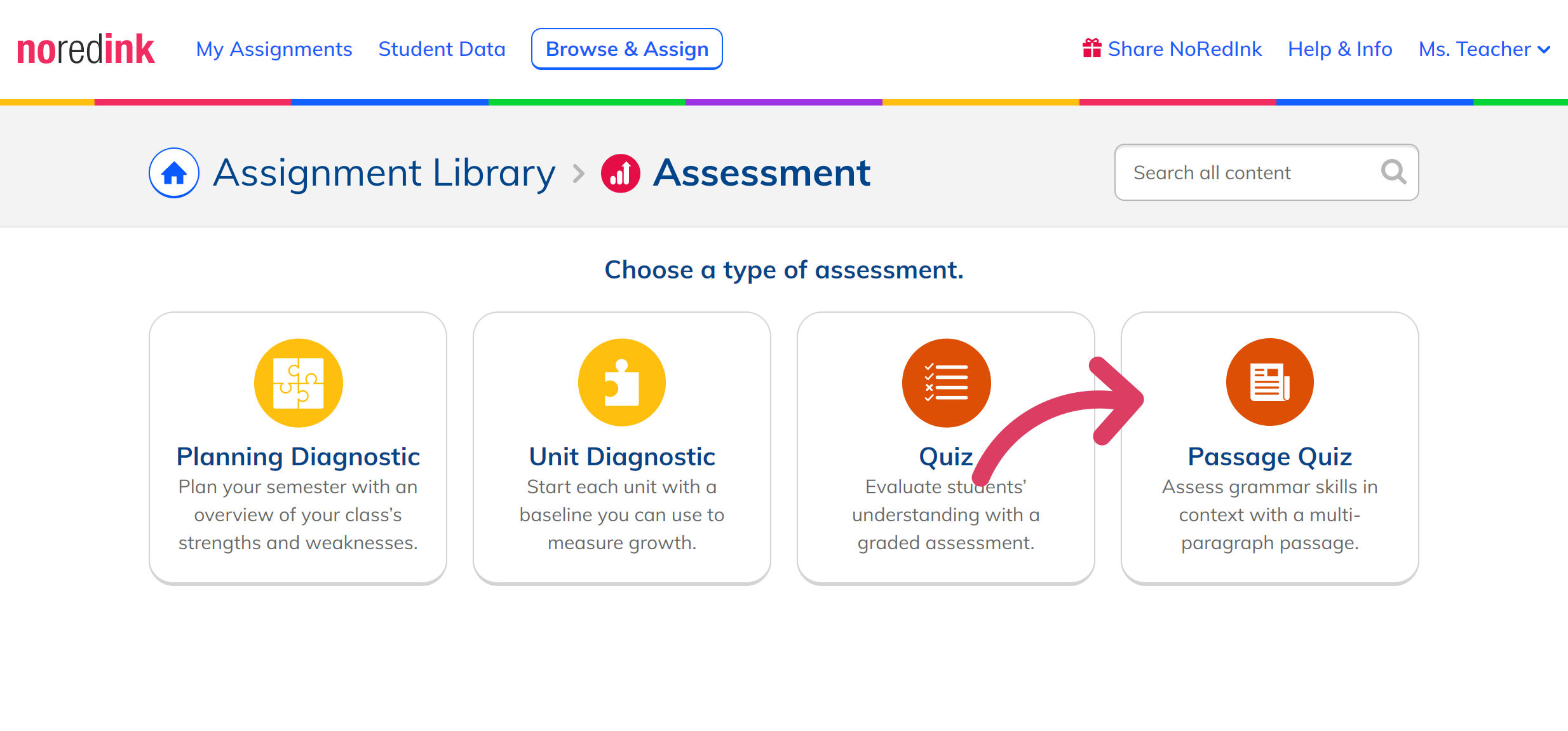 3. Choose a category to browse by writing and grammar topics.
You can use the search bar to look for a specific topics.
You can also filter topics by recommended grade level.
4. Preview and select a passage you want to assign. Click the arrow icon to assign it.
3. Finally, you'll choose the class(es) you'd like to assign the Passage Quiz to and then set a start and due date, and create a name for your assignment.
Ready to assign?

Click here to find quick links to our most popular Passage Quizzes.
Click here to select a Passage Quiz to assign from the Assignment Library.
What do students see?
During the assignment
Students will click on different segments of text to make corrections to errors throughout the passage.
Once students click the "Submit answer" button, the quiz answers will be scored right away.
Completing the assignment and remediation
After submitting their answers, students will complete a remediation exercise for any incorrect answers.
Clicking an incorrect answer will show students the topic's lesson and then give them an opportunity to try a similar question.
A student's original score on the quiz does not change from their remediation results.
Reviewing their own results

To view the results of their past assignments, students just need to click "Past Work" at the top while logged in to their account.
From their Past Work page, students can review the summary of their quiz results again, or click "View Answers" to see their answers compared to the correct answers.
Want to preview your assignment as a student?

Once an assignment is created, you can click the eye icon on your Assignments page to preview it. For Passage Quizzes, you are also able to see Answer Keys for the assessment.
You can also preview active assignments using the view as a student mode, which allows you to see what students in your class will experience.
How do I view student results?
Viewing your class performance
To view the results of your Passage Quiz from your Assignments page, click on the graph icon
next to the assignment. You can also click on the assignment's name from the Student Data "Grades" tab to view the results.
In
Want more tips? Click here to learn about additional features you can use in your Quiz results. Note that you cannot compare the results of a Passage Quiz.
Reviewing scores in your gradebook

View your gradebook under the "Student Data" tab at the top of your teacher dashboard. You'll find students' scores for their assignments in the Grades tab.
Students' grades will only appear if they have finished the quiz. If a student has not yet started the quiz or if it is incomplete, you will not see a score.
Passage Quizzes are scored like traditional tests (correct answers out of total number of questions). Click here to learn more about the Gradebook symbols.
Best practices and tips
Assign a Passage Quiz as culminating assignment after students complete a related skills practice exercise. If you want the passage to follow a practice assignment, make the start date of the passage begin after the practice due date.
Use the highly engaging passages as a starting point for additional assignments. Try asking students to react or think further about the passage's topic in a follow-up Quick Write, or consider prompting students to conduct additional research on the subject.
Leverage NoRedInk's ACT® or SAT® passages (available with Premium). While assessing the skills most commonly assessed on the SAT and ACT, these passages can also be useful for all high school students because they provide a mixed review of a variety of skills.
Additional resources