What are NoRedInk Planning Diagnostics?
Planning Diagnostics are adaptive assessments that gather broad-strokes data about your students' strengths and weaknesses.
We recommend assigning a Planning Diagnostic at the beginning of every school year or semester to get a general sense of your students' strengths and weaknesses. This will help you determine what skills you'd like to focus on in your curriculum.
How do I assign a Planning Diagnostic?
1. Head to our Assignment Library by clicking "Browse and Assign" at the top of your screen and then choose "Assessment." On the next screen, select the Planning Diagnostic activity.

2. On the next screen, you'll be given the option to browse our collection of pre-made diagnostics aligned to state standards or national tests.
You can also choose "Create Your Own." If you do, you'll select the skill areas you would like to include in your assignment.
We recommend choosing between 4 and 6 skills for your diagnostic.
You can see how many skills you've included at the bottom of the form. You can also adjust the number of questions for each skill set if you'd like.
3. Click "Continue" when you're ready to select the classes you want to receive the diagnostic. Then, set a start and due date, and create a name for your assignment.
What do students see?
Starting the assignment
When starting a Planning Diagnostic, students will first see directions that give them an overview of the assignment. They'll click "Let's Go!" to begin their assignment.
During the assignment
Students can come across a variety of question types. For example, some might involve clicking, highlighting, drag-and-drop, or typing.
Submitted answers are scored right away. Students can see the number of questions left in the upper right-hand corner.
Planning Diagnostics questions will adapt in difficulty based on students' previous answers. Students also have the option to click "I don't know" to skip questions if they are feeling stuck.
Completing the assignment
Students can review their results to see their proficiency levels for each Pathway immediately after completing their Planning diagnostic.
Reviewing their own results
To view the results of their past assignments, students just need to click "Past Work" at the top while logged in to their account.
From their Past Work page results, students can view the summary of their diagnostic again, or click "View Answers" to see their answers compared to the correct answers.
Want to preview your assignment as a student?

Once an assignment is created, you can click the eye icon on your Assignments page to preview it. For Quizzes and Diagnostics, you are also able to see Answer Keys for the assessments.
You can also preview active assignments using the view as a student mode, which allows you to see what students in your class will experience.
How do I view student results?
Viewing your class performance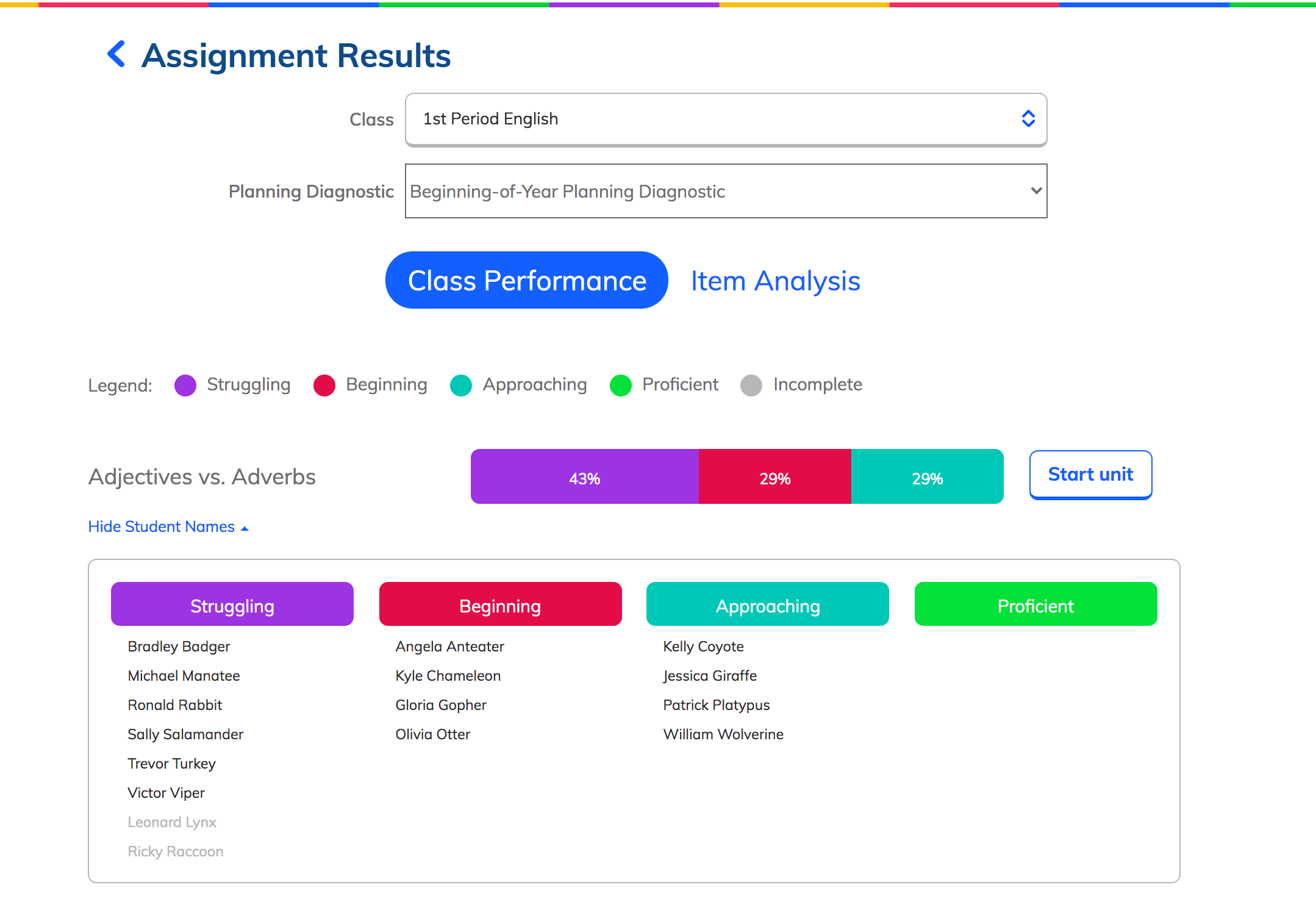 To view the results of your Planning Diagnostic from your Assignments page, click on the graph icon
next to the assignment. You can also click on the assignment's name from the Student Data "Grades" tab to view the results.
In the "Class Performance" tab of the diagnostic results, you'll see an overall breakdown of student performance for each skill area (Pathway) included on the assessment. Click "Show Student Names" to see student names and where they fall under each category.
In the "Item Analysis" tab, you'll be able to review students' answers for each question in the diagnostic.
Once you have decided which Pathway you would like to teach, you can click "Start Unit" to begin building your unit using a topic-level Unit Diagnostic. Click here to learn more about creating units with NoRedInk.
Reviewing scores in your gradebook

To get to your gradebook, click on the Student Data tab at the top of your teacher dashboard. You'll find students' scores for their assignments in the Grades tab.
If students have not yet started the Planning Diagnostic or if it is incomplete, you will not see a score appear until the assignment is finished.
For Planning Diagnostics, students are given a completion credit (a score of 100), for finishing the assignment by the due date. Click here to learn more about the Gradebook symbols.
Best practices and tips
Set expectations about the purpose of the Planning Diagnostic. Before students start working, we recommend letting students know that this is not meant to be a test, but rather a way for you to see where they are at so you can plan your instruction. Students aren't expected to know the answer to every question.
When creating your Planning Diagnostic, keep it to 4-6 skills areas to help manage the length of the assignment. While it's easy to add in more skills at the click of a button, you'll want to consider how many questions your students will have to answer.
Leverage diagnostic results to help you identify different students' learning needs so that you can support them with differentiated instruction. You can use these tips to create differentiated assignments in NoRedInk.
Additional Resources