What are NoRedInk Self Reviews?
NoRedInk Self Reviews support students with scaffolding, exemplars, and tips as they revise an essay they've already drafted.
Self Reviews emphasize the importance of revision in the writing process. As students engage in self-directed revision, it frees up your time to provide more individualized instruction where needed.
💡 Revise an existing draft
Before students begin a Self Review, we recommend that students complete a first draft of their essay. To support your students in their first draft, consider assigning a NoRedInk Guided Draft.
How do I assign a Self Review?
1. To assign a Self Review, first head to our Assignment Library by clicking "Browse & Assign" and select the Writing category.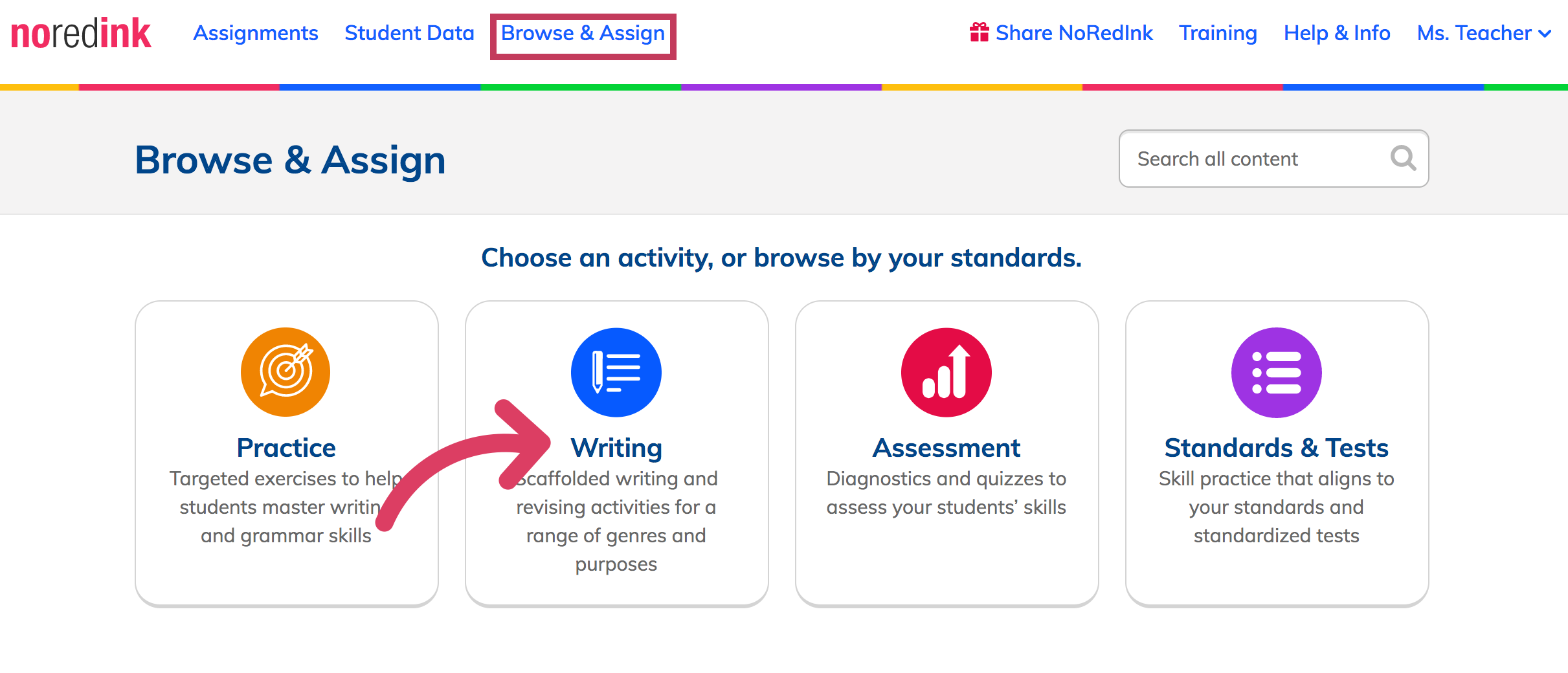 2. On the next screen, click "View more writing activities" and then choose "Create your own" for Self Review.
3. Next, add a prompt and select the essay genre you want to assign. The grading rubric will adjust based on the essay genre you select. When you're finished, Click "Continue."
4. Finally, you'll choose which classes and students you want to assign to the Self Review. You'll also set a start and due date, and create a name for your assignment.
Ready to assign? Click here to create a Self Review assignment.
What do students see?
Starting the assignment
When starting a Self Review assignment, the first thing students will be asked to do is paste their existing essay draft. This could be writing that students transcribe from paper or that they copy-and-paste from a NoRedInk Guided Draft, Google Doc, or other source.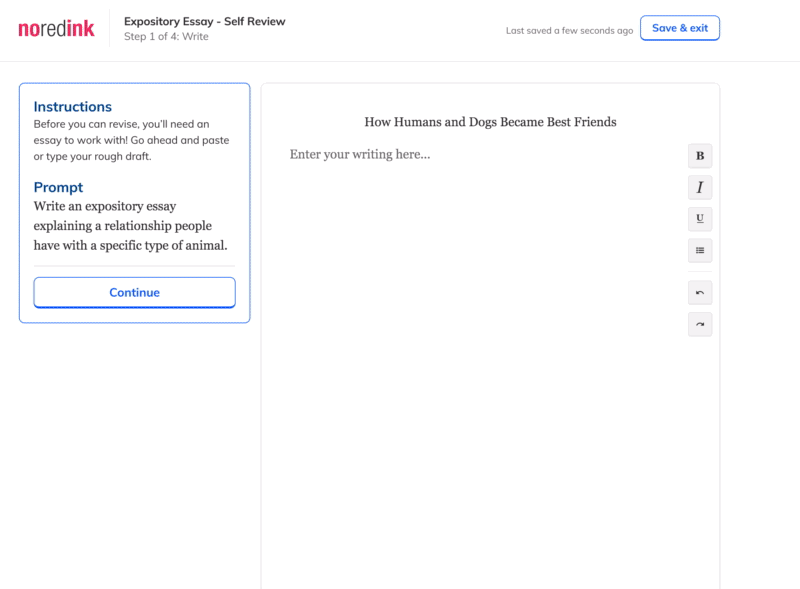 To edit the format of their writing, students can use the text editor on the right.
During the assignment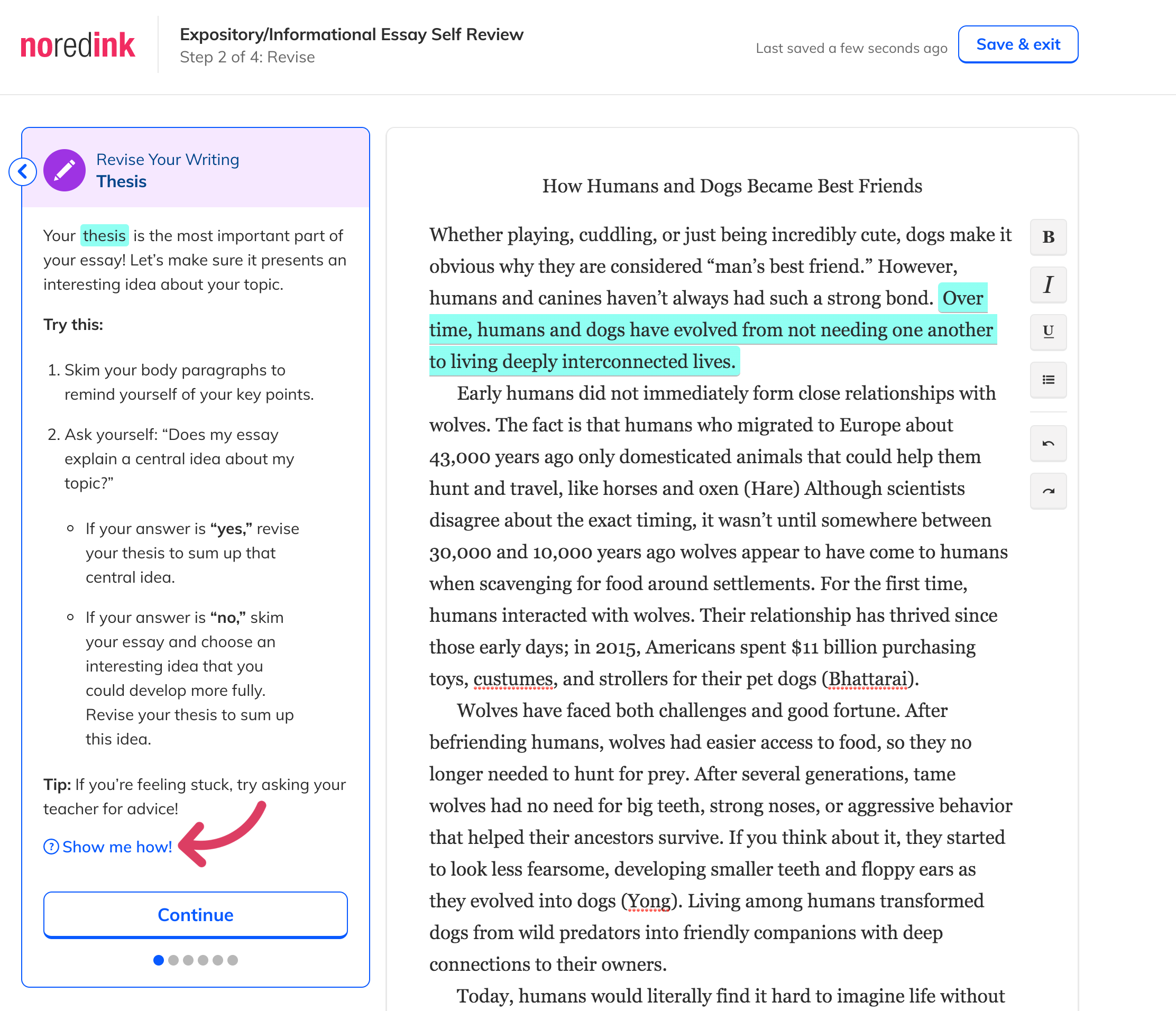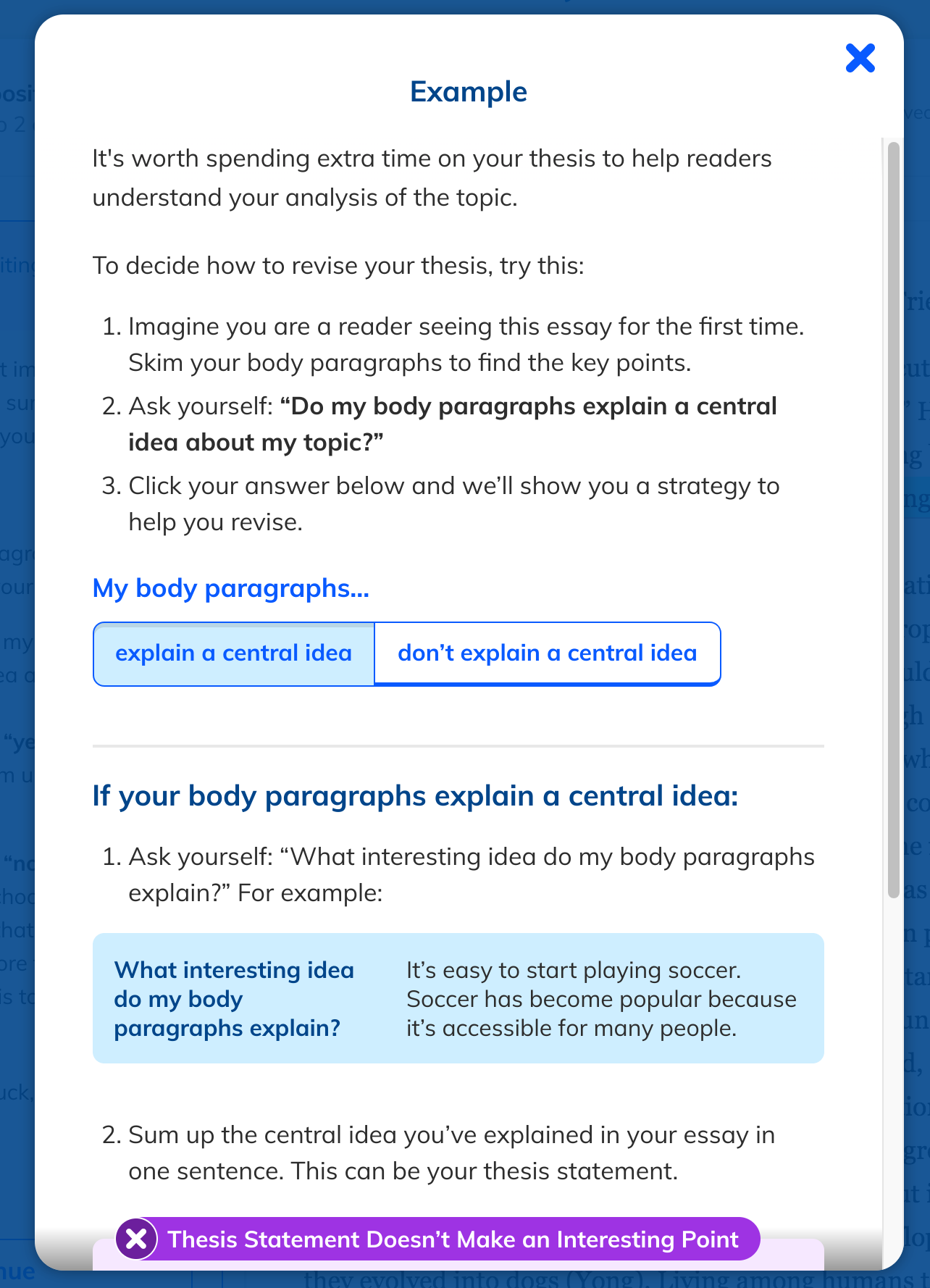 Student view of writing and reflection (left) and thesis statement example (right)
During the review step, students are asked a series of questions about different components of their essay.
They are prompted to make revisions based on their self-assessment. If students do not make any revisions, they'll be asked to explain their reasoning.
Throughout the process, students are supported with relevant exemplars, tips, and messages of encouragement.
Proofreading checklist (left) and the option to compare with the original draft (right)
In the final step, students will double-check their writing by completing a proofread checklist.
Students will also be able to compare their first draft with their final copy.
Finally, before submitting their essay for grading, students have the option to highlight their favorite paragraph and leave a note sharing why they are proud of their work!
Viewing their submitted writing
To view the writing they've submitted, students can click "Past Work" at the top of their page.

Clicking "View Writing" will show a student's submitted work, any comments you've left, and their grade.
Want to preview your assignment as a student?

Once an assignment is created, you can click the eye icon on your Assignments page to preview it.
You can also preview active assignments using the view as a student mode, which allows you to see what students in your class will experience.
How do I view and grade student writing?
Click on the "View Writing" icon

next to the assignment on your My Assignments page to see an overview of each student's progress in the writing assignment.

You can click on a student's name to see their current writing progress. You can only comment or grade writing that has been submitted.

When students submit their Self Review, you will see their names appear under "Ready for grading." Click on the student's name or on the "Grade" button to grade their submission.
Review revisions, comment, and grade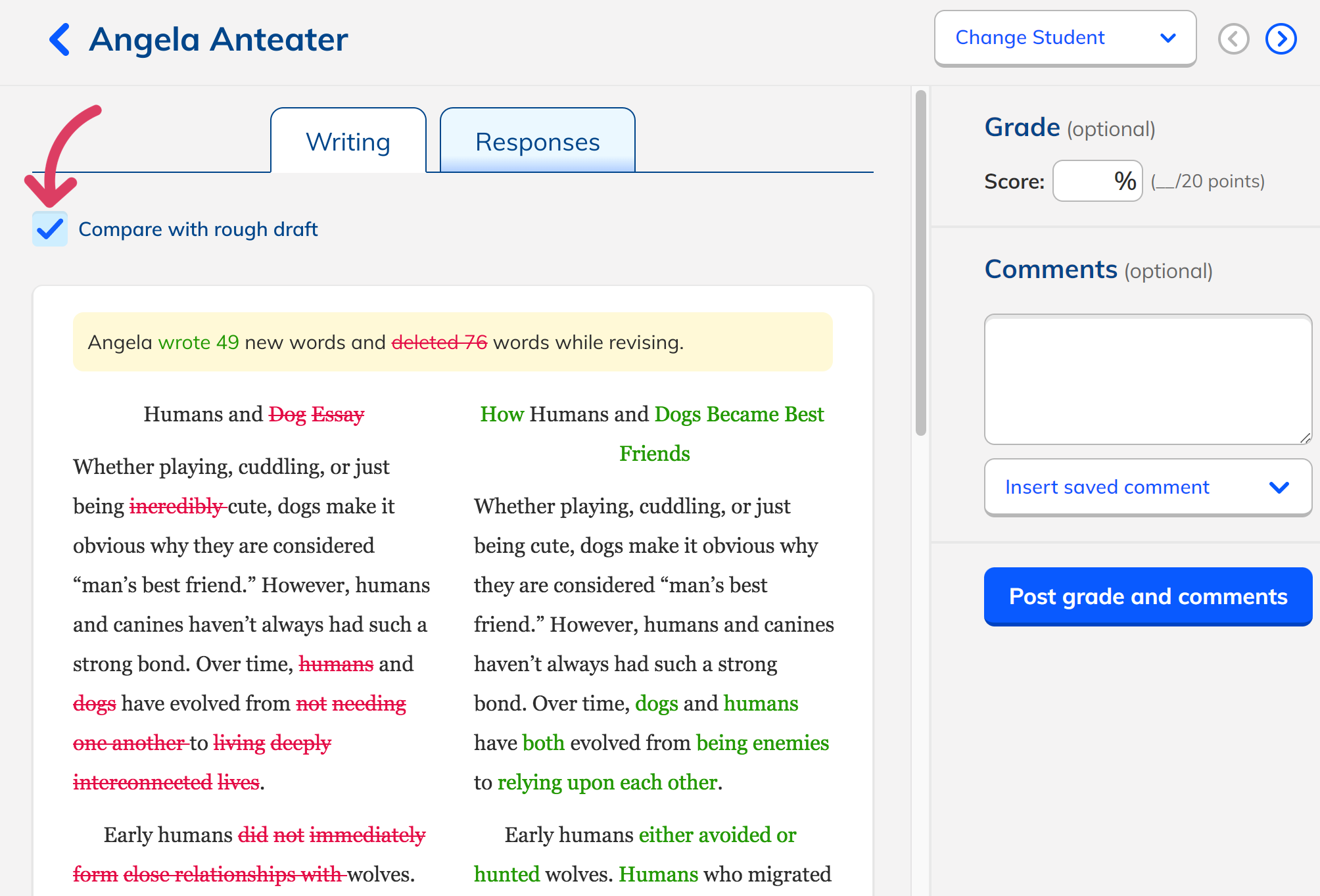 Comparing a final copy with the original draft (left) and reviewing refection responses (right)
In the "Writing" tab, you'll see the student's final essay submission. To compare the final copy with the original draft, select "Compare with rough draft."
In the "Responses" tab, you'll see the student's responses to reflection questions.
When you're done, you can post grades and your comments to share the final grade and results on the student's Past Work page.
Best practices and tips
Make sure students have an essay draft ready to use. A corresponding Guided Draft is the perfect way to set students up for a Self Review assignment, but they can also draft elsewhere.
Share and pre-teach the Self Review rubric with your students. You can project or screen-share the rubric and explain the criteria.

Give students practice with less familiar parts of their essays by

assigning Practice topics.
Additional Resources