NoRedInk Guided Drafts are designed to help your students draft a full-length essay. NoRedInk supports students with scaffolding, exemplars, and tips as they write, freeing up your time to provide more individualized instruction.
Before students begin their Guided Draft, we recommend that students complete pre-writing and have an idea of what they want to write.
To assign a Guided Draft, click here!
How do I assign a Guided Draft?
When creating a Guided Draft assignment, you will:
Choose an essay type, which determines most of the curricular scaffolding students will see
Write a prompt or grab one from our suggestions, which students will see as they are writing
The current essay types available are: Argumentative, Persuasive, Literary Analysis, Expository/Informational, Narrative, Rhetorical Analysis, and SAT®.
Based on the essay type you choose, NoRedInk will provide a preset rubric that students see and that also acts as your grading rubric. For more information on grading, click here.
You can customize your rubric by deselecting our existing rubric items and adding in your own custom criteria.
1. Click "Assign" next to Guided Draft from the Writing tab.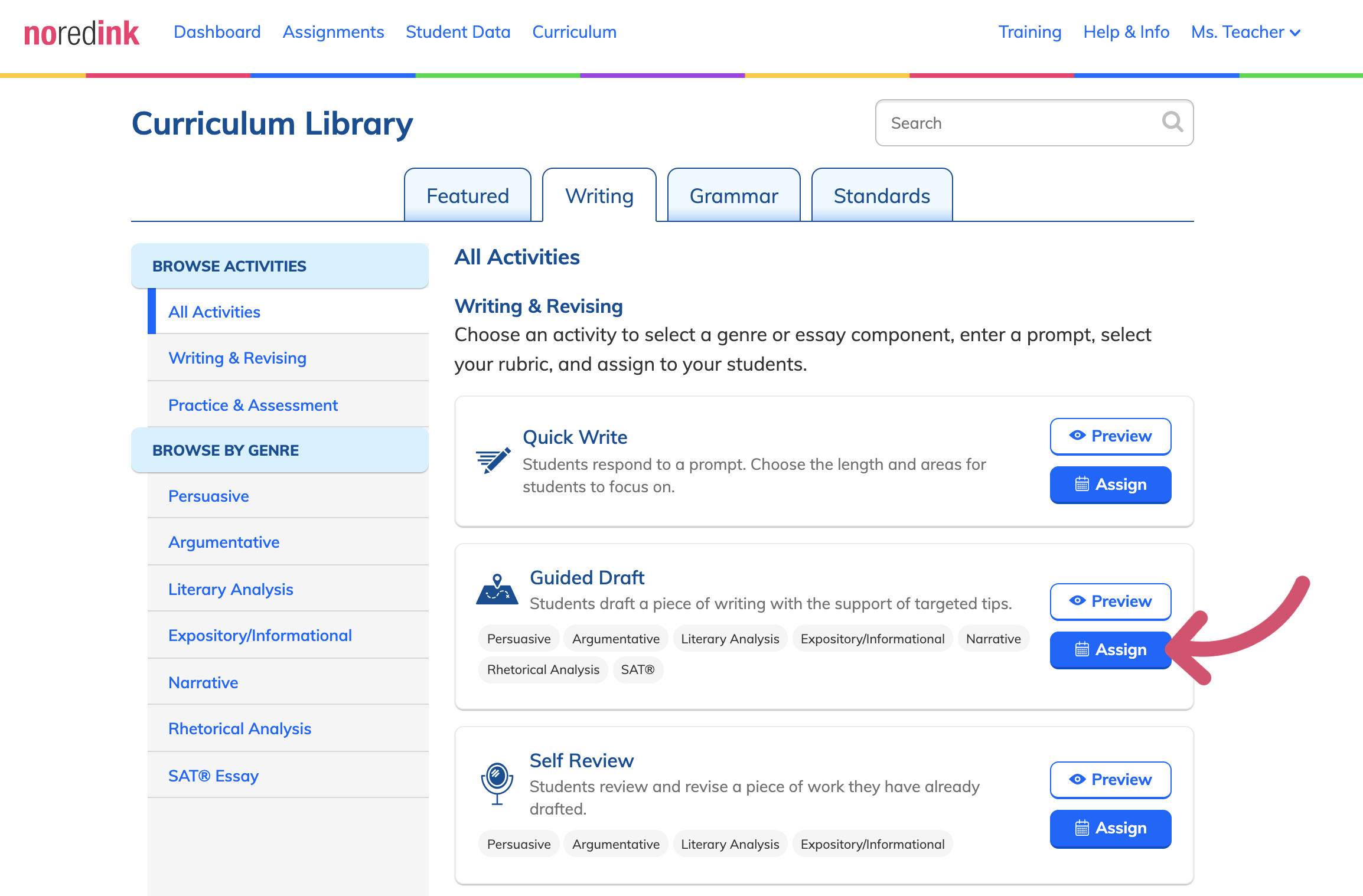 2. Choose your essay type, view and/or customize rubric items (Premium), and create a writing prompt for your students.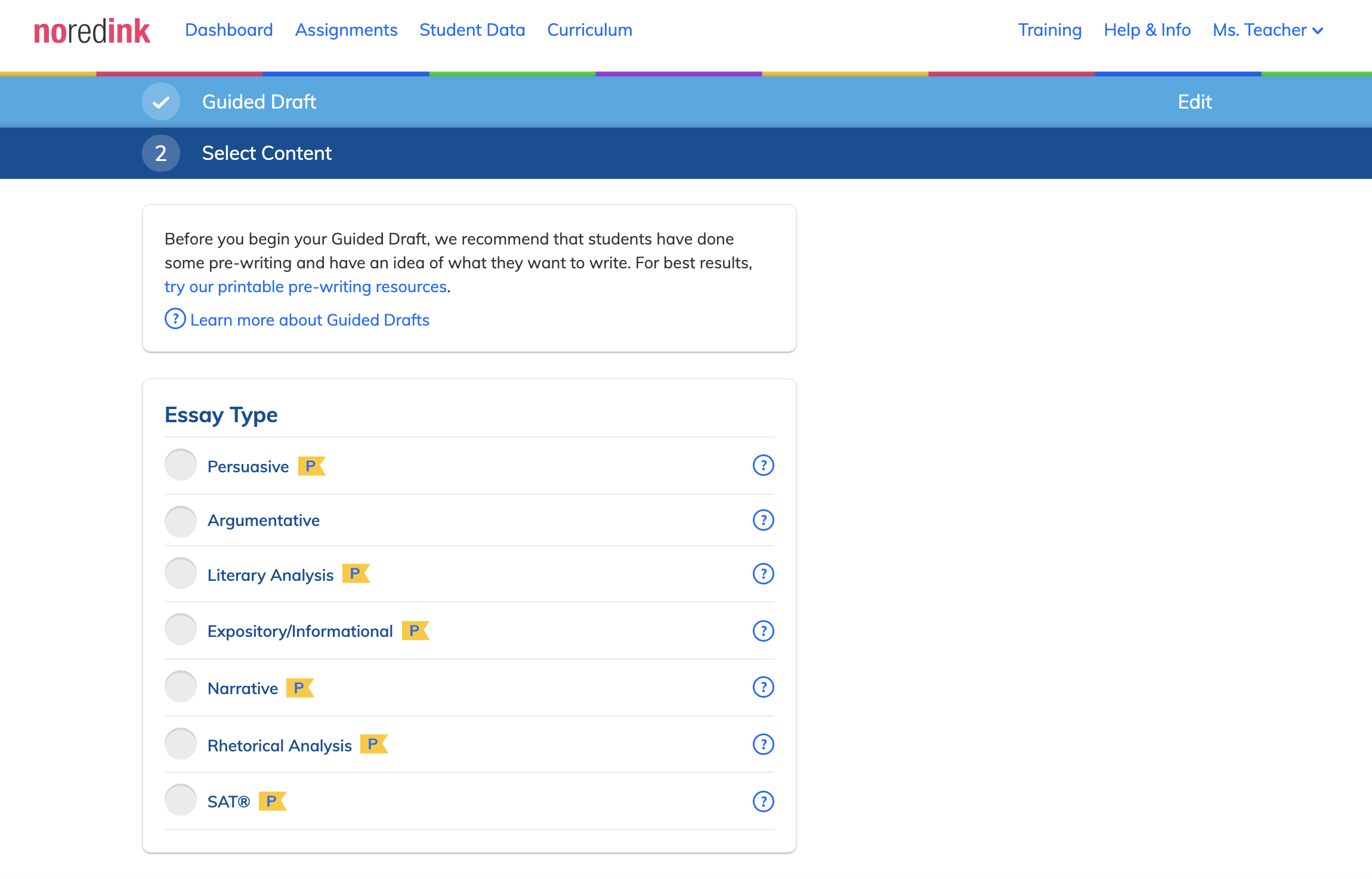 What do students see?
Students are first shown a required, interactive tutorial about how to write a strong essay based on the essay type you chose. This tutorial walks them through the structure and has a mini quiz at the end. They must go through this tutorial to start the assignment.
Example tutorial for persuasive essays:
After completing the tutorial, students will draft their essay in a two-panel interface that allows them to apply NoRedInk's scaffolding directly into their writing.
On the right, students will see distinct text boxes where they will write each component of their essay (such as Title, Introduction, Body Paragraph, Conclusion), helping them organize their essay.
On the left sidebar, students can see:
Your custom prompt
Tutorials, examples, and tips for the essay component they are currently working on
For example, as a student types her body paragraph for a persuasive essay, she can see tailored guidance on how to write a strong body paragraph for a persuasive essay.
Students must have text in all required components — the title, introduction, body paragraph, and conclusion — in order to submit their writing. For argumentative type essays, teachers can choose if a counterargument paragraph is also necessary.
Student experience when drafting:
💡Tip: Students can use rich text formatting when composing their Guided Draft!

If students have begun writing using another service (such as Word or Google Docs), they can easy copy and paste their work into the Guided Draft. Students can also find work previously submitted in NoRedInk by clicking "View Writing" next to the assignment on their Past Work page.
If you've returned an essay to a student for revision, students will see any rubric scores you have added, as well as general comments and specific, line-by-line comments you've left on their writing.
Note: If a student removes an entire highlighted section from their draft, the comment will be removed as well. You'll still be able to see all historical comments when viewing the Guided Draft's version history.
Previewing an essay type
You can explore the student experience when working on a Guided Draft assignment by using the "Preview" feature while selecting an essay type. To preview a Guided Draft, click the "Preview" button next to Guided Draft from the Writing tab.
To view the tutorial students will see before completing their Guided Draft, click the button that says "What's an [essay type] essay?" in the bottom left corner. You can exit the preview and return to the assignment creation form by clicking "Exit Preview" in the top left hand corner.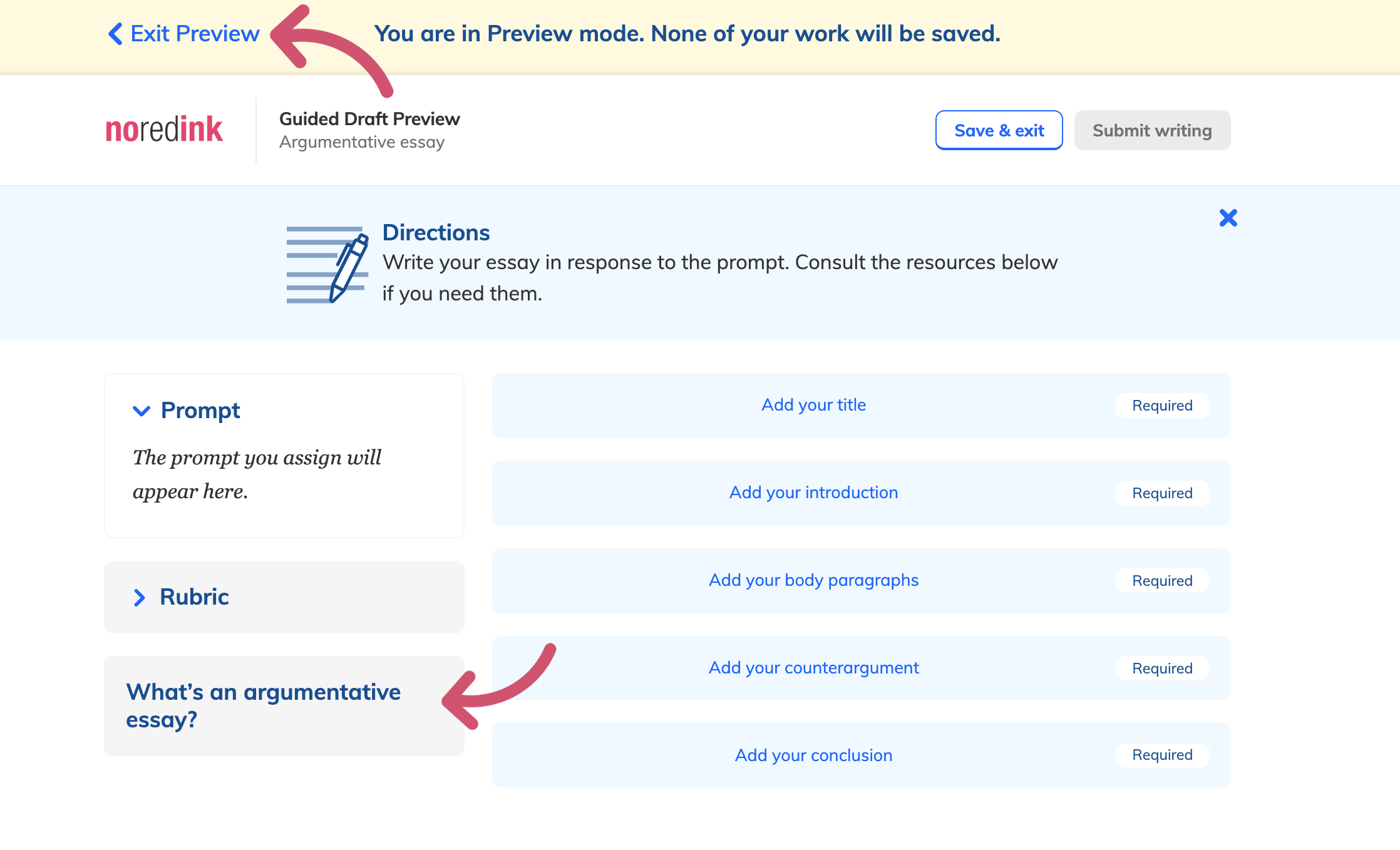 You can also preview a Guided Draft while creating the assignment by selecting "Preview" from the blue banner at the bottom of the screen. Select the essay type you'd like to preview, then click "Preview" from the blue banner at the bottom of the page.
Learn more about Guided Drafts
Was this article helpful?