🎉 New! Customize the rubric scale used for each individual criterion. Learn more here!
When assigning a Guided Draft, teachers can customize the assignment's rubric by choosing from rubric items created by NoRedInk, and/or by adding their own custom criteria. We recommend that when selecting rubric items, teachers assign 5-7 at once to help students focus while writing.
To customize your rubric, first choose an Essay Type for your Guided Draft assignment. After specifying which type of essay your students will work on, the rubric will appear on the right hand side of the screen. Click the "Customize" button to begin, as shown here:
Previewing and selecting rubric items
After clicking "Customize", a pop up will appear that allows you to adjust the rubric settings. Default rubric items for this essay type will be selected at first, and you can choose to deselect this criteria and/or add additional items. To view more information on an individual criterion, hover your cursor over the
icon to the right.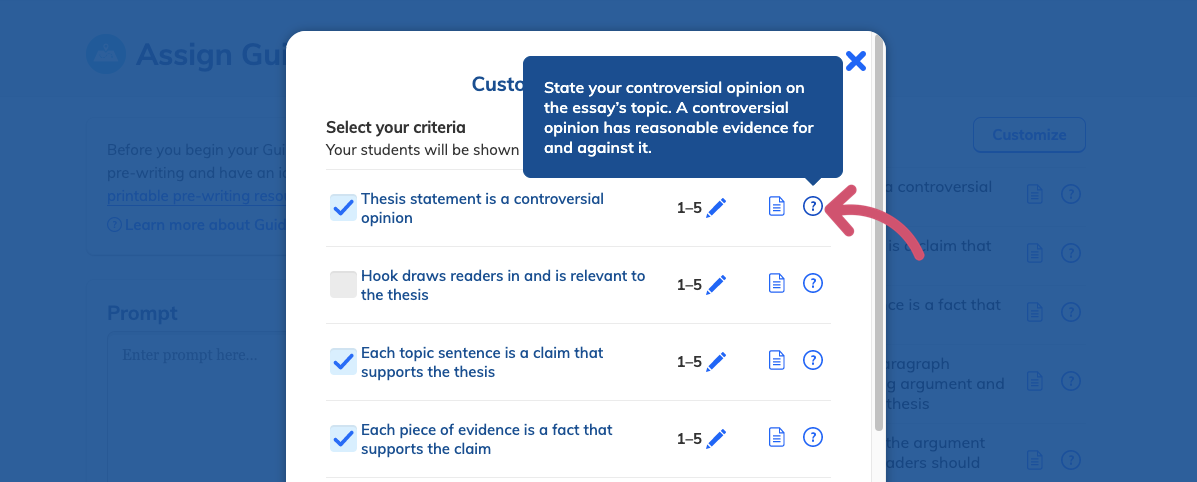 You can also view the lessons and examples students will see alongside each NoRedInk rubric item by clicking the
icon.
You can remove existing criteria by deselecting the checkboxes to the left of the rubric item. Click "Save changes" at the bottom of the window to confirm your changes. or click the "X" in the top right corner to forego any changes made.
Adding custom criteria
In addition to the pre-built rubric items provided by NoRedInk, you can choose to include your own custom criteria. To add custom criteria to your rubric, click "Add criterion" below the existing rubric items.
You'll then be able to give each criterion a name and description that will be visible to your students. To add more criteria, click "Add another".
Once you are finished, click "Save changes" at the bottom of the window, or click the "X" in the top right hand corner to discard any changes made.
At the moment, custom rubrics do not save between assignments. You'll need to add in your custom criteria for each new Guided Draft.
Customizing the rubric scale
You can also customize the scale for each individual rubric item on a Guided Draft. To customize your rubric scale, click the "Edit" (pencil) icon next to a rubric item.
The dropdown menus shown above will allow you to set your rubric scale to any range between 0-10. You can choose to apply your custom scale to all rubric items, or set a different scale for each individual criterion, by clicking the toggle shown below.
After selecting the rubric scale, click "Save Changes" at the bottom of the window to confirm your changes.
Was this article helpful?