Self Review supports students in the revision process by providing scaffolding, exemplars, and tips as they review and revise their writing. If you've never used Self Review before, here are some tips to make the most of it!
Use the assignment in the revision stage of the writing process
First and foremost, it's important that students already have an essay draft before they begin Self Review, as the assignment's purpose is to evaluate and revise their own writing. A corresponding Guided Draft is the perfect way to set students up for a Self Review assignment, but they can also draft elsewhere.
Preview the assignment with your students
Self Review helps students learn that the writing process continues after their first draft. To set students up for success, talk to them first about why revision is important and point out that strong writers critically evaluate and make lots of changes to their writing. If students don't identify areas for improvement, they won't be prompted to revise; let them know that you will see the changes they make and encourage them to engage with the assignment as much as possible.
We also recommend that you model this mindset while walking students through the assignment. After creating your assignment, head to the Assignments page and click the Preview button to the right of the assignment name. You can then project the assignment onto your board to show students what they'll be doing!
The preview provides a sample essay with some intentional problems. As you walk students through the assignment, model highlighting each part of the essay and thinking through the questions. Show students how to use the tips and examples to improve their writing.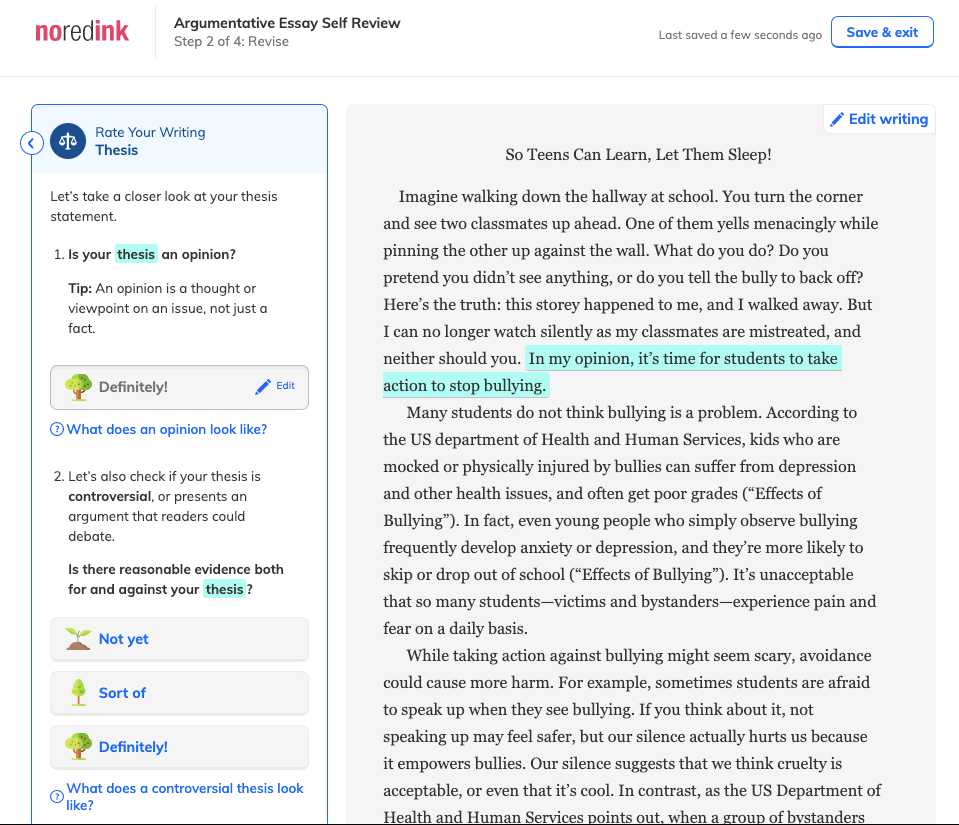 Share and pre-teach the rubric
In Self Review, students will reflect on and revise parts of their essays based on a genre-specific rubric. Before students draft their essays (either in a Guided Draft assignment or elsewhere) we recommend these strategies for preparing students:
Share the Self Review rubric with your students. You can project the rubric and explain the criteria or simply make sure your own rubric includes similar rubric items. If students are focused on the rubric while drafting, they'll have a more productive Self Review experience when they evaluate their work against these criteria.
Pre-teach rubric items or parts of the essay that students are less familiar with. In Self Review, students highlight and then rate each part of the essay. The assignment provides lessons to help students identify each part of their essay, but if students highlight the wrong part, they may be confused by the targeted revision tips they receive. Give students practice with less familiar parts of their essays by assigning Practice topics.
Pair Self Review with other NoRedInk assignments
You can leverage NoRedInk's other assignment types to transfer learning and get the most out of Self Review.
Do your students have trouble making their way through a first draft? Students can first draft their essays with the support of a Guided Draft, which is designed to perfectly align with what students will be evaluating themselves on in Self Review.
Do you want students to both provide and receive feedback? Try a Peer Review to help students revise their theses, body paragraphs, intros, or conclusions. You can assign a Peer Review before or after a Self Review!
Do your students need extra support in a specific area, such as using strong evidence to support a claim? Assign a Practice topic at any point in the Self Review process so they can more accurately rate and effectively revise their writing.
To find the assignment options that will support the essays your students are writing, browse by genre in the assignment library under "Browse and Assign."
These are just suggestions to get you started, but we would love to learn more about your own experience using Self Review in your classroom and hear how we might improve it to better meet your needs. Please reach out to us directly at support@noredink.com to share any suggestions or feedback you have!
Learn more about Self Review