What are NoRedInk Guided Drafts?
NoRedInk Guided Drafts provide students with the scaffolding and support they'll need to write a strong essay.
Guided Drafts support students with scaffolding, exemplars, and tips as they write, freeing up time for you to provide more individualized instruction.
💡 Pre-writing materials
Before starting on Guided Drafts, we recommend that students complete pre-writing so that they have an idea of what they want to write. Click here to find our free pre-writing resources that you can use right away with your classroom!
How do I assign a Guided Draft?
1. To assign a Guided Draft, first head to our Assignment Library by clicking "Browse & Assign" and then choose "Writing."
2. On the next screen, choose the Guided Drafts activity. Then, select a genre you'd like to assign to see a library of sample prompts for that essay type.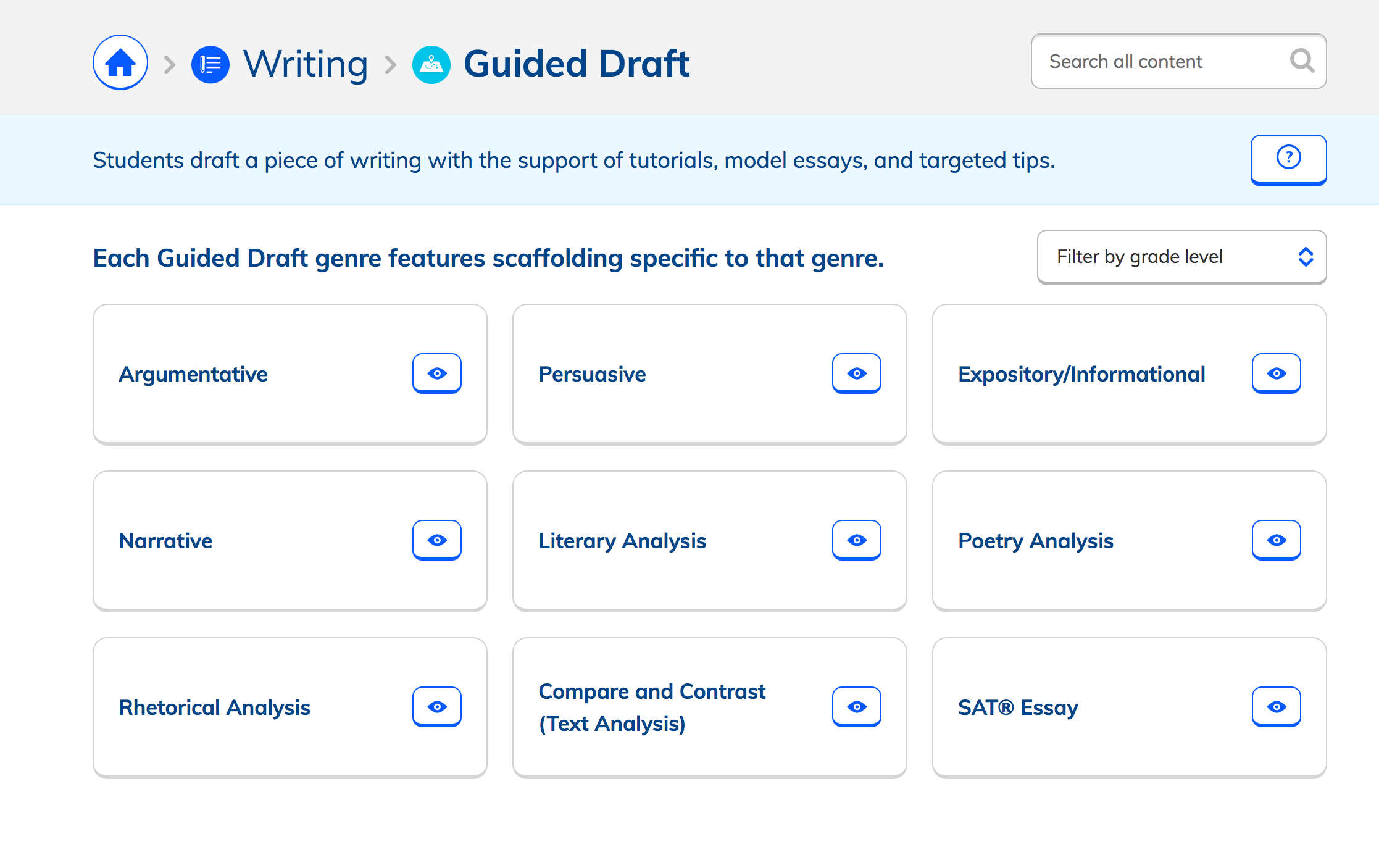 Each Guided Draft genre has scaffolding (tutorials, tips, rubrics) that are specific to the essay type.
You can filter the prompts you'll see by recommended grade level.
3. Browse and preview writing prompts or create your own prompt.
Click the

eye icon to preview the student view of the assignment using the selected prompt. Click the arrow when you're ready to assign it.
To create a Guided Draft using your own custom prompt, click the "Create your own" button.
4. Next, add your prompt. You also have the option to add passages, to customize your rubric, or to select specific parts of the essay you'd like to assign.
If you assigned an essay prompt from the Assignment Library, this will be pre-filled. You can also customize it or add your own prompt.
Click the "Add a passage" button to add a longer text that students can see as they write and for text-dependent analysis. Click here to learn more about adding prompts and passages.
Review the parts of the essay that are assigned. If you'd like, you can change these. Click here to learn more.
Review the pre-set rubric and/or customize your rubric by deselecting existing rubric items or adding custom criteria. You can also customize the rubric scale. Click here to learn more.
5. Finally, you'll choose which classes and students you want to assign to the Guided Draft. You'll also set a start and due date, and create a name for your assignment.
Ready to assign? Click here to assign a Guided Draft using one of our pre-made prompts or create your own from the Assignment Library.
What do students see?
Starting the assignment
When starting a Guided Draft assignment, the first thing students will do is review the essay rubric. If a student has not yet completed the interactive tutorial for the essay genre they are working on, this tutorial will automatically start after they read through the rubric.
During the assignment
Students will draft their essay on the right panel. In order to submit their writing for grading, text must be entered in each required essay component.
The left panel offers scaffolding features that support students in the following ways:

If you've added a passage for text-dependent analysis, students will see the text they are responding to right next to their own writing along with the prompt
Students see targeted tips and examples as they work on specific essay components.
Students see the essay rubric criteria.

Writing is saved automatically every 30 seconds. Students can also click "Save & exit" to manually save their writing.
Viewing their submitted writing
To view the writing they've submitted, students can click "Past Work" at the top of their page.

Clicking "View Writing" will show a student's submitted work, any comments you've left, and their grade.
Want to preview your assignment as a student?

Once an assignment is created, you can click the eye icon on your Assignments page to preview it.
You can also preview active assignments using the view as a student mode, which allows you to see what students in your class will experience.
How do I view and grade student writing?
To view students' submitted writing from your My Assignments page, click on the "View Writing" icon

next to the assignment.

You can click on a student's name to see their current writing progress. You can only comment or grade writing that has been submitted.

When students submit their Guided Draft, you will see their names appear under "Ready for grading." Click on the student's name or on the "Grade" button to grade their submission.
Comment, grade, and return to student
Use the comment box or highlight specific parts of students' writing to leave targeted feedback.
The overall score will be calculated based on how you grade each rubric item, but you have the option to manually override the grade when necessary.
When you're done, you can post grades and your comments to share the final grade and results on the student's Past Work page.
Example of writing that has been returned to a student for additional revision
If an essay needs more work, you can send the essay back to the student for additional revision. You'll be able to view the previous versions of students' essay submissions.
Want more tips? Click here to learn more about grading Guided Drafts.
Best practices and tips
Help students brainstorm ideas on their own with

Quick Writes

and our printable

pre-writing resources.

If you want to give students feedback on their ideas before they start drafting, set the Quick Write due date before the start date for the Guided Draft.

Take advantage of NoRedInk's pre-made resources for Guided Drafts!
Additional Resources