Overview
When creating a Guided Draft, you can customize which parts of the essay are assigned and whether each part is required or optional.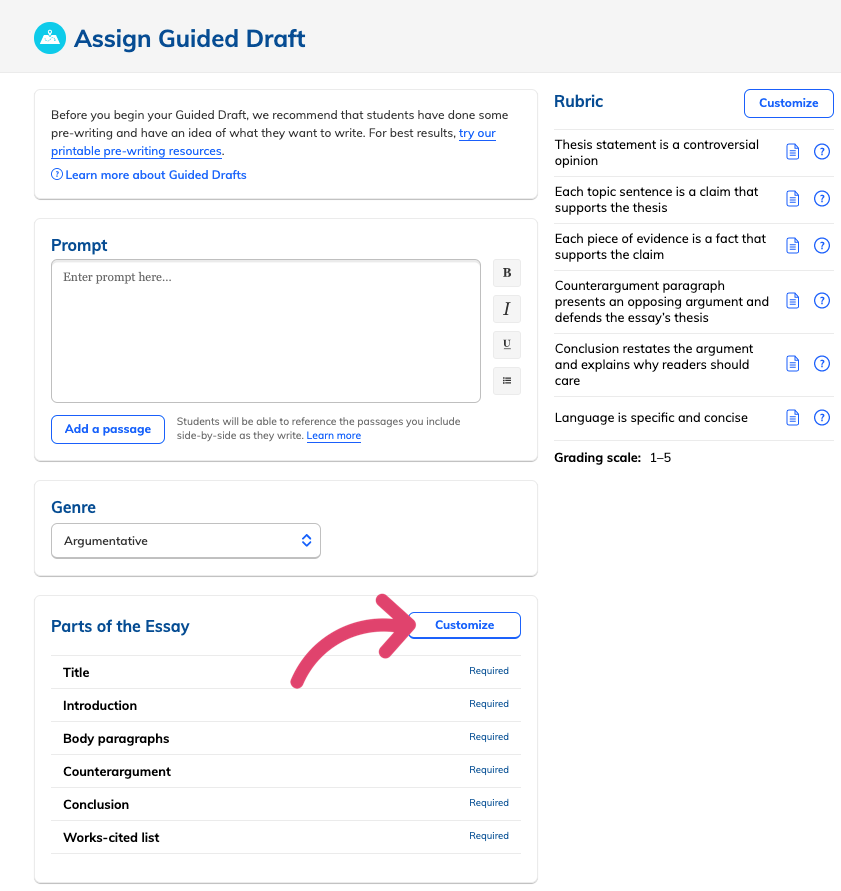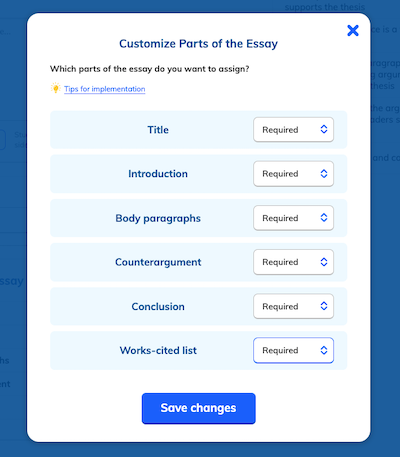 Click the "Customize" button in the "Parts of the Essay" section
For each part, you can choose from the following:

Required:

students must write this part before they can submit

Note: For body paragraphs, if you select "Required," students will be required to complete at least one, but may write as many as they'd like

Optional: students can choose to write this part if they want to but it has no impact on whether or not they can submit the assignment
Don't assign: students will not see this part during the assignment

Click "Save changes" at the bottom of the window to confirm your selections. Or click the "X" in the top right corner to forego any changes made.
Your rubric will automatically be updated to reflect the parts of the essay that are required. Find out how in this article.
Note: At the moment, there isn't a way to edit which parts of an assignment are included once it is created. If students are revising an essay in parts, we recommend making one or two parts required and the remaining optional.
What do students see?
Scroll through the screenshots below to see what the assignment will look like for students with some of the different possible settings. Remember, you can always click the "Preview" button as you are assigning your Guided Draft to check your specific settings.
Only the introduction is assigned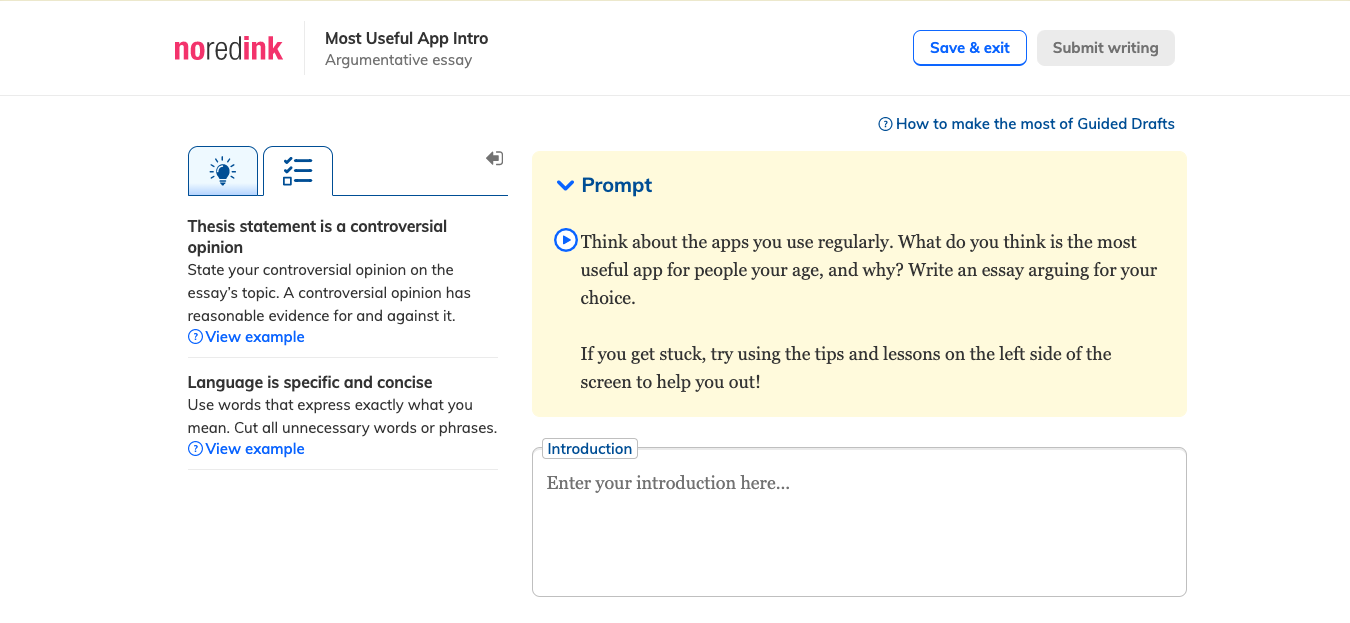 Only the introduction is required; all other parts are optional
Introduction and body paragraphs are required; all other parts are not assigned
All parts are required
❮
❯
Tips for Implementation
Here are some suggestions for how to use this feature to support your students at various stages of the writing process:
Have students do a deep dive on one part of an essay. If you're focused on teaching what makes a strong introduction or how to develop the climax of a narrative, assign just that part in your Guided Draft. You may also want to consider adding more detailed rubric items by selecting "Customize" on your rubric.
Help students focus on body paragraphs before writing their intros and conclusions. To avoid your students getting caught up trying to write a perfect introduction instead of focusing on the meat of the essay, try using one of these approaches:
Mark the introduction and conclusion optional, and let students know in the prompt or outside of NoRedInk that they should first write their thesis and body paragraphs. Then, you can send the essay back for revision and have them add their intro and conclusion.
Create one assignment just for the body paragraphs. Once students are done, create a second assignment for the full essay. Students can paste their body paragraphs into the second assignment, then continue on to their intro and conclusion.
Give students who finish one part of the essay quickly the option to move on. When creating an assignment, select one or two parts as required and the others as optional to make sure students start with the part you're focused on but still be able to work ahead. Be sure to explain in the prompt or outside of NoRedInk what your expectations are for when students can work on the optional parts.
Help students write a paragraph with a strong topic sentence, evidence, and reasoning. If you want students to focus on writing a standalone paragraph, you can assign a Guided Draft for body paragraphs only. Two things to keep in mind for this case:
At the moment, there's no way to limit the number of body paragraphs students write. Be sure to explain in the prompt or outside of NoRedInk that students should write only one paragraph.
The instructional support will still reference the thesis and structure of a full essay.
Give feedback on each part of the essay before students move on to the next. If your goal is for students to write an essay piece by piece, you'll need to be a bit creative in how you use the assignment. Here are some instructions for leaving feedback on specific parts as students continue writing the essay:
Make the first part that you want students to work on required and the other parts that you want students to write optional.
In your prompt (and when you communicate the assignment to students outside of NoRedInk), explain that students should only work on and submit one part at a time.
As each student turns in the first part, you can leave feedback (learn more in this article).
In the general comments box, let that student know which part to work on next.
Then select "Send back for revisions" to return the assignment back to the student.
Repeat steps 4-6 as many times as needed for each part.
Include an MLA works-cited list. If your students need to cite their sources, adding a works-cited list as a component reminds them to add this information. Our tips and examples will help students know what to include and how to format the information about each source.