Overview
In this article, you'll learn how to use the Manage Classes page to manage your classes and students. To get to the Manage Classes page, click on your name in the top right corner and choose "Manage Classes."
Add a new class
Click on the "Add new class" button on the Manage Classes page to create a new class.
You'll find the classes you create appear in the left panel. Click on the class name to view class details and to add new students to the class.
If your account is using Clever for roster syncing, Clever-synced classes will appear automatically. You should not need to create your own classes. Learn more here.
Manage classes
Edit your class details
Use the edit button to edit your class name and the grade(s) associated with your class.
Note: grade levels do not affect the difficulty levels of the questions students come across on NoRedInk.
Archive classes you no longer need
Use the archive button to archive classes you no longer need. This will effectively delete the class from your account, but will keep student mastery data intact.
Click on "Archived Classes" in the left panel of the Manage Classes page to view classes that have been archived.
If you make a mistake archiving the wrong class, in most cases you will be able to unarchive the class and restore the class data.
Add new students
💡 Follow these step-by-step instructions to learn how to add students to your classes.
Manage students
Using the "Actions" menu options on your Manage Classes page, you can edit student names and usernames, reset student passwords, and remove students from your class.
Edit student's information
To edit a student's first name, last name, or the username they use to log in to their NoRedInk account, click the "edit student" option from the expanded Actions menu.

If you change a student's login username, be sure to let them know their new username.
Reset student passwords
If a student can't remember their chosen NoRedInk password, you can reset it for them from by selecting "Reset password" from the Actions menu.
By default, passwords will reset to the class code with the spaces included. Once students log back in successfully, we recommend that they choose a new password by updating it in their Account Settings. They will need to follow our password security requirements when updating their password.
Be sure to let students know when you've reset their password. You can also share the student's username with them in case they need a reminder.
Remove students from your class
Selecting the "remove from class" option from the Action menu will drop that student from your class. This is useful for situations where a student is no longer in your class, a student needs to be moved to another class, or if a student accidentally creates more than one account in your class.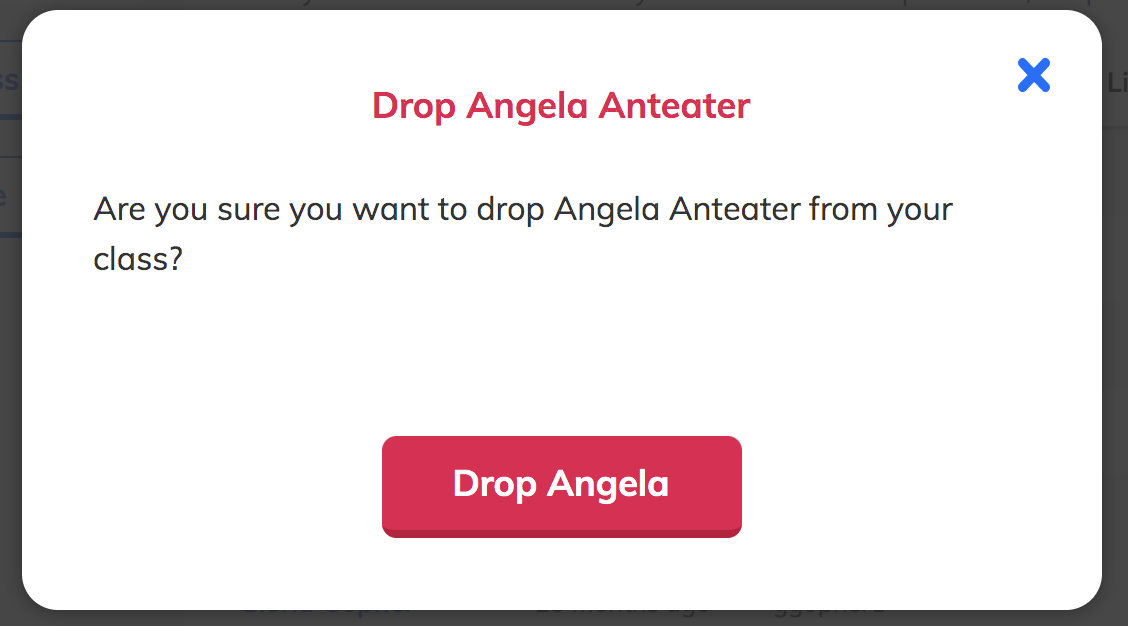 Removing a student means that they will not have access to class assignments, and they will lose any data associated with the assignments. Similarly, you will no longer see any of their progress in your account.
If you accidentally remove the wrong student or their account, simply have them join again. All of this year's progress data will be restored as long as they rejoin with the same account.
Tips for using the Manage Classes page
Move students to a new class
You can move students by following the instructions above to remove them from their original classes and then adding or inviting them to their new classes.
Note: When a student transfers between classes, the work and scores of an assignment do not transfer. We recommend saving their scores by taking a screenshot or recording scores from their past work results. A student's global mastery scores and Interests do transfer.
Remove duplicate accounts
If you see that a student has joined your class with more than one account, we recommend removing the extra account(s) to prevent login confusion and to ensure that data remains in a single account. To determine which account to remove, follow these instructions.
Troubleshoot student login problems
More often than not, login problems occur when students forget their username/email or which login method they've set up in their NoRedInk account. Read this article for more tips for using the Manage Classes page to troubleshoot student login issues.
See which accounts need to be linked to Google (for Google SSO)
The "Linked To" column on your Manage Classes page shows you if a student's NoRedInk account is linked with either Google or Clever for single sign-on.
If this column is blank, it means that the student must log in using the listed username and a password.
If an icon appears under the "Linked To" column, it means that the student can log in using the listed sign on method. You can hover over the Google icon to see the specific account it is linked to.
Students can always connect, disconnect, or update the Google account linked to their existing NoRedInk account from their Account Settings. Here are instructions you can share: How to link or unlink your NoRedInk account with Google (for Google SSO)
Manage your Clever-synced classes
If you are noticing problems in rosters syncing from Clever, first be sure to check that students are logging in to NoRedInk via Clever. If you're still not seeing correct SIS data in NoRedInk, we recommend contacting a Clever admin at your school to ensure that the correct course data is being shared with NoRedInk. You can also contact our Support team for further assistance and instructions.
Additional Resources