The beginning of the school year is a great time to get an overview of students' writing skills. This article will help you use our baseline essay-writing assessments to evaluate student writing and plan your instruction based on the results. 
💡 Grammar Diagnostics
Looking to assess students' grammar knowledge instead? Try one of our pre-made Planning Diagnostics.
Our baseline writing assessments ask students to write a multi-paragraph persuasive or argumentative essay. The assessments include short, grade-appropriate readings that students can draw on to support their arguments.
Each assessment should take students roughly 2 hours to complete. You may want to start the assessment in class and then allow students to finish for homework.
We offer baseline writing assessments for the following grade levels (click any of the links to begin creating an assignment):
Note: Because they're meant to determine what students know before you've given any instruction, baseline assessments use our unscaffolded Quick Writes. This means students won't see the tips and examples that they do when writing a Guided Draft.
Share the assessment with your department to use as a common baseline. After creating your baseline assessment(s), you can send a link to your colleagues so that they can easily use the same assessment. Learn more about sharing assignments.
Each assignment begins with language that explains the purpose of a baseline assessment and then presents the task to students:
If you'd like, you can edit the prompt to add additional directions or scaffolds. For example, you may want to adjust the required number of body paragraphs or specify how many pieces of evidence students should include in each body paragraph.
After reviewing the prompt, familiarize yourself with the 3-point rubric on the right side. Hover over the question marks to reveal more detailed descriptions of each rubric item. Students will be able to see this rubric as they write.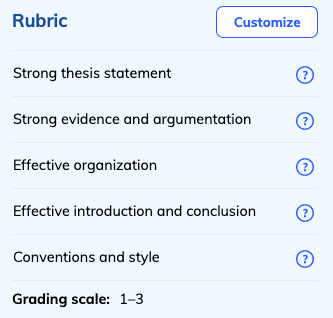 💡 Instructional Idea
Before students write, preview the rubric for them and explain what specific skills you'll be looking at in their writing.
Read students' essays and score them quickly using our 3-point rubric.
A score of 3 means a student has mastered that element of essay writing.
A score of 2 means a student shows partial understanding of that element of essay writing (needs to shore up some specific gaps in understanding).
A score of 1 means a student shows no or limited understanding of that element of essay writing (needs to start from the basics).
As you score, keep a tally of which 2-3 rubric areas student seem to be struggling with most.
💡 Grades for Completion
Because a baseline assessment is more of a diagnostic than a test of learning, you may want to give credit simply for completion. After scoring with the rubric, you can manually override and assign a different grade by clicking the pencil icon. You'll still be able to see students' individual rubric scores in the assignment results.
Review the scores you've given to identify the most common trends. Then, use the table below to address these trends.
Tips
Pick the top three areas that your class struggled with, and assign 1-2 of the activities in that row per week over the course of a quarter or semester. Then, assign a full Argumentative or Persuasive Guided Draft for students to apply what they have learned.
Step 5: Later in the year, follow up with another writing assessment to measure growth
We'll be releasing more writing assessments later this year. These will provide a way to measure your students' writing progress at the end of a unit, semester, or year. In the meantime, you can always consider assigning another Quick Write using the same rubric we provided in these baseline assessments.