Keep reading to learn about NoRedInk features and resources that can help your students prepare for STAAR Writing.
Evaluate where students are with a Planning Diagnostic
Click the links below to assign students a pre-made planning diagnostic aligned to the Texas Essential Knowledge and Skills:
Clicking "Browse & Assign" at the top of the page will allow you to access our Assignment Library. You can choose "Standards & Tests" to browse through activities that align with your standards and standardized tests.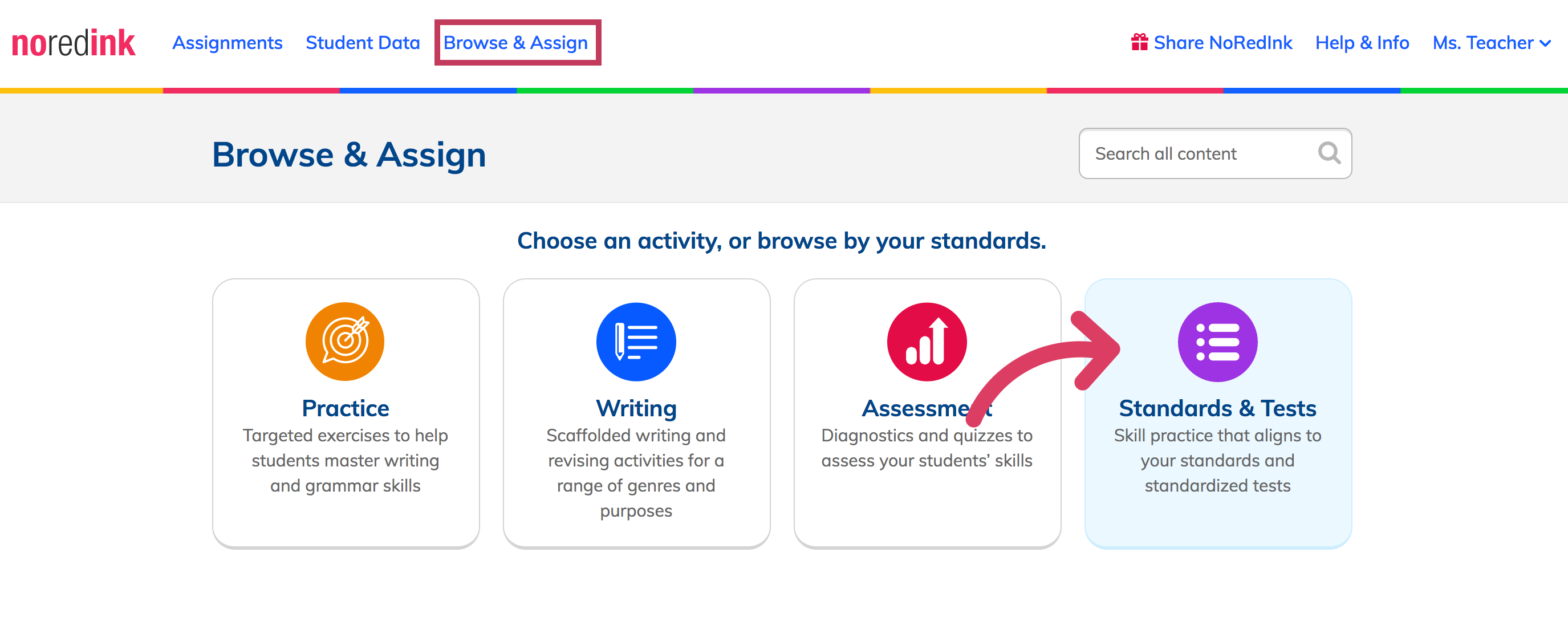 Learn more about creating activities using the Standards & Tests page here!
Support students on the essay with STAAR Guided Drafts
Our STAAR Guided Drafts provide just-in-time support as students practice writing STAAR essays.
In these assignments, students will write on real past STAAR writing prompts, and you will grade them on the STAAR rubric. Students can practice drafting their essays with the support of our Expository/Informational or Persuasive Guided Drafts.
These Guided Drafts are best suited to help students practice strong expository or persuasive writing and gradually work towards successfully writing an essay in timed conditions with less support.
Some best practices for using these assignments include:
Pre-teach the rubric and introduce strong student essays. Students will get the most out of these Guided Drafts if they're familiar with what the STAAR essay asks for. You can find STAAR rubrics and sample student essays here: STAAR Writing and English I, II, III Resources.
Use one of our pre-made Guided Drafts as an untimed assignment, allowing students to take advantage of all of our tips and lessons to support strong writing.
Once students are more comfortable with writing expository or persuasive essays on STAAR prompts, you can simulate writing the actual essay by challenging students to use less of the Guided Drafts support (tutorials, tips, and lessons) as they write. If you feel your students are ready to write without any support, try using a Quick Write assignment instead.
Looking for more STAAR support?
This guide, though not comprehensive, offers information about a few of the other features available to you as you and your students get ready for the STAAR, including tracking and reports.
You can also see our full alignment to the Texas Essential Knowledge and Skills in our alignment guides:
Was this article helpful?