Overview
If your district has been using Clever since the beginning of the school year, this article will provide tips for handling semester rollovers as a Clever admin and as a teacher.
Just getting started with Clever and NoRedInk? You may want to start here: Using Clever with NoRedInk
S1 sections will be automatically archived in NoRedInk if the section ID is changed, unshared, or otherwise removed in Clever (may result in teachers losing access to class data they still need)
Teachers will not be able to restore sections that have been archived due to data changes in your SIS or Clever. Read more below to learn how to prevent losing access to class data.

S1 sections will remain active in NoRedInk as long as the same section IDs continue to be shared in Clever (recommended)
When teachers no longer need the roster, grades, and assignments from an S1 class, they can manually archive it themselves in NoRedInk.

Newly shared S2 sections will sync and appear as active classes in NoRedInk
With roster syncing, students will appear in their correct NoRedInk classes once they've linked their accounts or logged in via Clever.

S2 sections that have been shared with NoRedInk since the beginning of the school year will remain active as long as the same section IDs continues to be shared in Clever
If teachers have previously archived their S2 courses during the first semester, they will want to unarchive them in NoRedInk.
Sections that are unshared, filtered, or otherwise removed from Clever sync will become automatically archived in NoRedInk. This can result in losing access to class data in NoRedInk since courses archived this way cannot be restored. To prevent problems, consider taking one of the following recommended actions:
1. Allow S1 courses to persist through the semester rollover, rather than removing them from the sync (the course section ID should also stay the same). This will allow teachers to continue accessing previous class data if needed. When they are ready, teachers can manually archive the course themselves.
2. If you must remove earlier sections from Clever sync or from your district's SIS, be sure to notify teachers ahead of time so they can export student data from classes that will be removed. Here are instructions you can share with teachers.
3. When adding sections for a new semester, make sure that the ID #s for new sections are different after a semester rollover. Learn more here.
4. Large changes to your district's SIS sync to Clever and NoRedInk will automatically initiate a sync hold and will need to be reviewed and approved by your district's NoRedInk Customer Success manager. To prevent an extended delay in syncing courses, we recommend that you contact your Customer Success Manager right away when making large data changes so that they can review changes as quickly as possible.
(This safeguard exists to prevent potentially undesired changes from impacting Clever-synced NoRedInk accounts and courses)
Semester rollover tips for teachers
1. Before the end of the your first semester, we recommend that you record any data or scores you need from your S1 Clever-synced courses. This will ensure that you have a record of data should any changes be made to your SIS or Clever data. Here are instructions for exporting your gradebook.
2. Be sure to use the course in NoRedInk that is syncing with your most current roster (use synced semester 2 courses when semester 2 begins). When you no longer need your S1 course, you can manually archive it in NoRedInk. Click here for instructions.
3. Check your archived courses if you do not see your S2 Clever-synced courses on your NoRedInk Dashboard. If you see the option to do so, you can unarchive the course.
4. If you experience problems with missing S1 or S2 courses or course data, or if the course you need cannot be unarchived from your Archived Classes, please contact your Clever admin for assistance.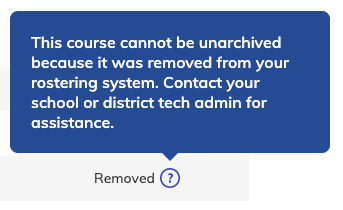 More Resources