Welcome back! 👋
Our team has been working hard to build new features that will help your students become stronger writers.
At the beginning of a new school year, we know it's important for you to get started on the right foot. Here's a list of the improvements and changes you can expect to see when you log in to your NoRedInk account!
A brand new Assignment Library for creating activities and browsing curriculum
Clicking "Browse & Assign" (formerly "Curriculum Library") at the top of your dashboard will take you to the newly redesigned Assignment Library. NoRedInk activities and content are now organized into three sections: Practice, Writing, and Assessment.
From the Assignment Library, you'll be able to preview content, including lessons and sample questions, as you browse NoRedInk's various activities and topics. There's some more information on how to do so here!
Within each section you can filter by grade level, and NoRedInk Premium users can click "Standards & Tests" to browse content by alignment to state and national standards. You can also use the search bar in the top right hand corner to search for skills you'd like to assign.
Pre-made assignments for Quick Writes and Guided Drafts
Prompts for Quick Writes and Guided Drafts assignments are now available directly in the Assignment Library! You can browse each activity by category, then quickly create a pre-made assignment by clicking the arrow icon.
New and enhanced features in Guided Drafts
Text-dependent analysis
Teachers can now choose to include a longer passage along with their prompt when creating a Guided Draft assignment. To do so, click "Include passage(s)" when customizing the assignment. Learn more here!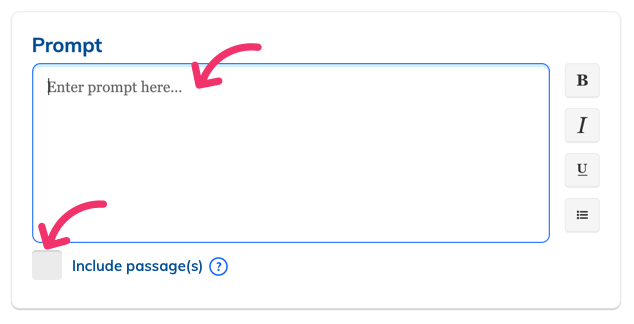 Students will be able to reference the passage(s) you include side-by-side as they write.
We've also added text-to-speech support for prompts and passages in Guided Drafts. Learn more about how to enable this feature here!
Provide specific feedback with highlighting
In addition to leaving overall feedback on a submitted draft, teachers can now highlight student writing to leave specific feedback on the highlighted section. Learn more here!
Compare revision by viewing draft history
If you've requested a student complete a revision of their Guided Draft assignment, you can now toggle between each submitted version by selecting a revision from the dropdown menu shown below.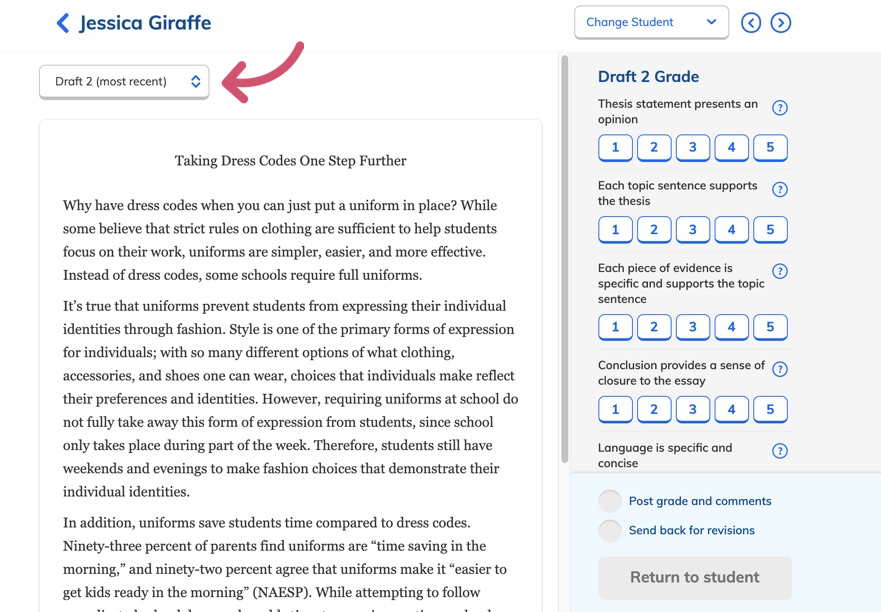 💡 Looking to learn more about Guided Drafts? Check out this article and video!
Four new genres available in Guided Drafts
Currently available with NoRedInk Premium
Additional essay types have been added to Guided Drafts! Teachers can now assign the following genres, each complete with their own set of scaffolded tips, lessons, and exemplars:
Rhetorical Analysis: Students develop an analysis of an author's purpose and rhetorical choices in a nonfiction text.
SAT® Essay: Students write a practice SAT® essay with the support of timed-writing strategies and examples.
Compare and Contrast: Students develop a comparison of two or more fiction, poetry, or nonfiction texts.
Poetry Analysis: Students develop an analysis of a poem.
Additional functionality on the "Manage Classes" page
The "Manage Classes" page has been redesigned to give teachers better visibility and control over their classes. Learn more here!
Teachers can see if student accounts are linked with Google or Clever to help make sure students are logging in correctly. The "Actions" menu allows teachers to edit students' names and usernames, reset student passwords, or remove students from a class.
An updated Student Interests page
We've updated our student interests page with around 180 brand new interests, including some of the TV shows, musicians, and movies most requested by students! As a reminder, students can suggest new interests for the site by filling out this form.
Additional resources to support you and your students
We've added many remote-friendly resources to the Help Center, including step-by-step guides and videos, to help you and your students get started using NoRedInk smoothly.
Was this article helpful?