Overview
In this article, you'll find a list of solutions to common questions we receive about assigning work in NoRedInk. For common troubleshooting questions about teacher or student accounts, see this article.
General troubleshooting
Common troubleshooting steps (problems loading, missing text, "glitchy" behavior)
If students report glitchy behavior such as missing text or buttons, or questions not loading, then they could be running into a browser/device related issue.

We recommend sharing the following steps with students to help them troubleshoot:
1. Confirm that students are using a supported browser and device.
2. Temporarily disable browser extensions to help us see if they are the problem. Click the browser you are using to see instructions for opening it without extensions on: Google Chrome, Safari, Firefox, Internet Explorer.
3. Ensure that your browser is fully updated. You can check your browser version quickly at WhatIsMyBrowser.com. (Here are instructions for updating your browser.)
4. Clear your browser's cache. (Here are instructions for clearing the cache.)
If your students are using school-issued devices, device restrictions could be interfering with NoRedInk and certain URLs may need to be unblocked in order for NoRedInk to load properly. This article contains a list of URLs that your IT department should be able to help you unblock or whitelist: What URLs should I unblock?
If students are still experiencing difficulty or receiving an error message, please contact our Support team and include following information:
The name of the student
A description of the problem
The name of the assignment
A screenshot of what the student is experiencing
Where can we find troubleshooting help articles for students?
Students can find additional troubleshooting resources in the
Assignment Help
section of Student Help Center.
Creating assignments
Why do I get an error message when creating an assignment?
If you receive a purple error message when clicking "Assign" after selecting your classes or students, first check to make sure the start and due dates are in the following format: MM/DD/YYYY and not MM/DD/YY. A good way of confirming this is by choosing the date from the calendar tool.
If the format for both the start and due date is correct, please contact our Support team with the following information:
The email address on your account
The name of your class
The name of the assignment
Why do students not see assignments that I have created?
Follow these steps to make sure that your students have access to the right assignments.
1. Make sure students that have recently joined your class have been added to the assignments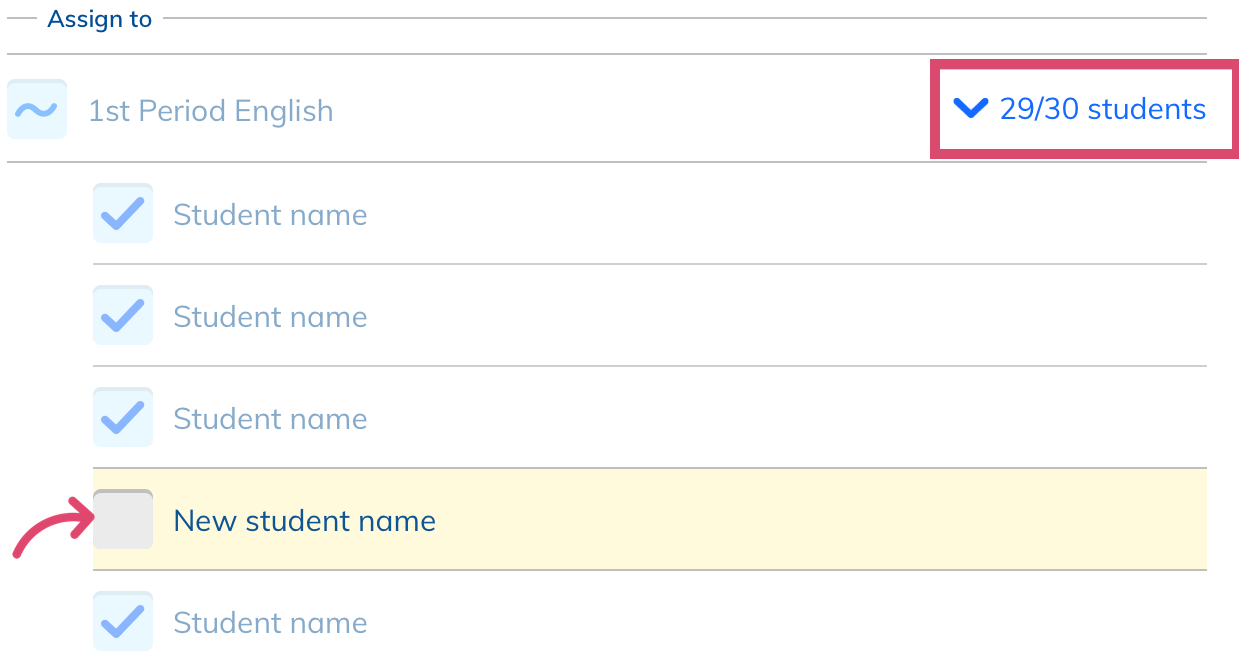 New students will be automatically added to assignments that are not past due and that have been assigned to the entire class. You'll need to manually add new students to assignments that are past due or have not originally been assigned to everyone. Learn how to add new students to these existing assignments by clicking here.
2. Check your assignment settings and make adjustments
If students are reporting not being able to see their assignments, double check your assignment settings. To get here, find your assignment on your Assignment Page and click on the edit (pencil) icon next to the assignment name.
In your assignment settings, you should check for 3 things:
The correct students' names are checked off under "Assign to." Add a checkmark to any student names that are missed but should have access to the assignment.
Check the start date/time and the due date/time. You can make adjustments as needed. See the instructions here.
Students will only see assignments that are in progress on their homepage, with the exception of late assignments that show up under this section on their home page.
If an assignment is past due but you would still like students to have access to it, make sure the "Allow late work" box is checked.
3. Have your student log in to their NoRedInk account and look for the assignments there
Make sure your student is signing in to the correct NoRedInk account that joined your class
If the account is correct, see if the assignment appears under Your Assignments or Late Assignments on your student's homepage. If it does not, you may want to double check the assignment's settings in your account (see step 2).
Have the student check their Past Work page as the student may have forgotten that they already completed the assignment. You can also view the student's Past Work page in your own account by following these instructions.
Tracking assignment results
Why is my student saying they completed work but I can't see their results?
When you create assignments for students, their assignment progress and results will be reflected in your account in real time. You can follow these instructions to learn how to track the results in different assignments.

If a student reports that they've completed an assignment, but their progress is not showing up in your Student Data or in the assignment's results, here are some common reasons for this discrepancy:
The student could be working on independent practice instead of their assignment (practicing via "Master topics on your own" or from the "Learn" page). Independent practice of topics does not contribute to progress in the assignments you create for students. Therefore, the results of independent practice will not appear in your gradebook for assignments. You can, however, view students' global mastery in topics from the Mastery tab. For more information about the difference between assigned work and independent practice, review this page.

If a student completed independent practice instead of assigned work, make sure they can access the correct assignment: How do I make sure students can see the assignments I've created?
The student may be logging in to a different account than the one registered in your class. Ask the student to show you how they are logging in and make note of the username or email address. Students can view this information by clicking their name, followed by "Settings" in the top right hand corner. Here's how to take a screenshot on Windows and here's how to take one on a Mac. You can verify student login information by following these steps.

If you can't determine whether the student has a different account from the one in your class, reach out to us via support@noredink.com and we'd be happy to help!
Why is an assignment I created not showing up in my Student Data page?
If an assignment is not showing up on your Student Data page, check that the assignment type is included in your selection. Assignments on the Student Data page are organized by due date, so also make sure the date range includes the assignment in question's due date.
How do I help students who are "stuck"?
Sometimes, students will come across topics or questions in NoRedInk Practice that they find particularly challenging, but they may not always reach out to you for help right away. This is where the "stuck" notifications come in handy to help you identify when students could be struggling so that you can provide them with more direct support.

We know if can be tough to support students working from home, and we've put together some tips here for assisting students who are stuck while working on Practice: How can I help students who are stuck?
🖥 Tips for troubleshooting while distance learning
We know that distance learning can pose new challenges. Here are some tips for communicating with and helping students remotely that can be used along with the rest of the information in this article

:

If students are emailing you for help or reporting an issue, ask for screenshots of where on the site they are having trouble. Here's how to take a screenshot on Windows and here's how to take one on a Mac.
If you're hosting virtual meetings online with your students, consider setting some time aside for questions so that you can help multiple students at once.
Have students screen-share with you so you can see where they need help.
Check out the rest of our distance learning resources to find more resources and tips for using NoRedInk remotely.
You and your students can always reach out to our team directly by emailing support@noredink.com. Including as much information as you can, such as the name of your class, school, assignment, students, and some information or pictures of the issue will help us provide support quickly!
More helpful articles
Was this article helpful?