Note: The SAT Essay is a type of a rhetorical analysis essay. The SAT Guided Draft is geared specifically toward preparing students to write an analysis of a contemporary, persuasive passage within a 50-minute time limit. If you're looking for more robust support in analysis skills on passages with various purposes, check out the Rhetorical Analysis Guided Draft.
Wondering how to use the SAT Guided Draft to help students prepare for the SAT Essay? Try starting students off with untimed preparation, then gradually prepare them for more test-like conditions with timed practice. For either approach, you can assign one of the official SAT practice prompts in our Help Center.
💡Tip: You can copy and paste the link for the official SAT practice prompt directly into the "Prompt" section when creating your assignment. This will allow students to open the SAT prompt directly from their Guided Drafts!

This SAT Essay Unit Plan combines both approaches into a 3-4 day unit. Read on here for specific suggestions for each approach!
To assign an SAT Guided Draft, click here!
Untimed Preparation
Start your SAT Essay preparation by first assigning an untimed SAT Guided Draft. Allowing additional time for initial practice will help your students become familiar with the task and internalize the Guided Draft's tips and strategies for successfully writing the essay under time pressure.
Here are some suggestions for how to use the Guided Draft to help students understand the SAT Essay task and rubric, and learn specific strategies for test day.
Before students start to write:
1. Try walking through key pieces of the Guided Draft together as a class. Project this content onto the board while previewing the assignment:
2. Use our SAT pre-writing materials to pre-teach rhetorical analysis skills.
3. Encourage students to take advantage of the support the Guided Draft offers—the tutorials, tips and lessons. This curriculum will help them meet the SAT rubric criteria, manage their time, and organize their essays on test day.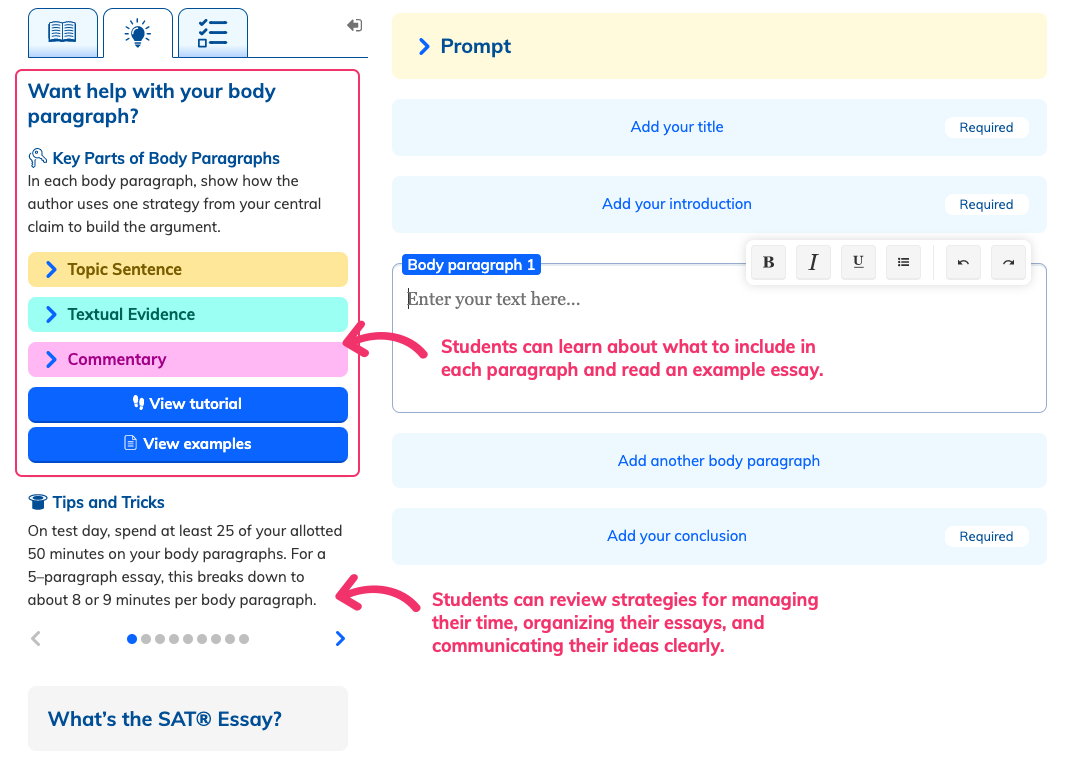 Timed Practice
Once students are familiar with the task and test-taking strategies, give them repeated opportunities to practice writing timed essays.
Gradually decrease the time you give students for the assignment until eventually allotting just 50 minutes—the amount of time they'll have on test day. Here are some suggestions for how to set up a more authentic timed SAT Essay practice.
Looking for more SAT prep support?
Was this article helpful?