Happy 2020!
A new year brings new opportunities with NoRedInk! In this article you'll learn how to:
Get a fresh start by archiving old classes and adding students to new classes easily with class codes and invite links
Make assignments even easier by reusing your archived assignments and sharing assignments with your colleagues
Try something new with NoRedInk Writing Activities and helpful prompts and pre-writing resources
Get a fresh start by managing your classes on NRI
Note: Premium users with Clever integration including automatic course and roster syncing will not need to archive or create new classes. To learn more about NoRedInk Premium, click here.
When your semester or year ends, it is helpful to remove unused classes from your teacher dashboard so you can focus only on your active class sections.
To remove previous classes from your dashboard, follow these steps.
From your Dashboard, click "Manage classes" on the left of your screen.

Select the correct class from the menu on the top left.
Click the red "Archive" button.
This will effectively delete the class from your account, but will keep student mastery data intact, and you will always have the option to unarchive this class.
Once you have archived your previous classes and created your new classes, we recommend using the class code or invitation link to have students enroll in your class.
Note: Students who have used NoRedInk previously should log in to their existing accounts to join their new classes to avoid duplicate account creation.
Give students the class code
Give the class code to your students verbally or in writing. Students can then enter the class code from their homepages when logged into an existing NoRedInk account. New students will also be prompted to enter the class code when creating a new account.
To find your class code, log in to your account, and navigate to "Manage classes". To find your class code, click "Manage classes" in the top right hand corner. Your class code is listed first on the "Details" tab, and also on the "Students" tab, by clicking "Add students" as shown below:
To learn how your students will use this class code, click here.
Send students an invitation link
An invitation link is a URL that is pre-populated with your class code for easy student access. It will look something like: https://www.noredink.com/join/class-code-5.
To find your invitation link, log in to your account, and navigate to "Manage classes." Then, click the "Students" tab for the class you'd like, followed by "Invitation link" as shown here: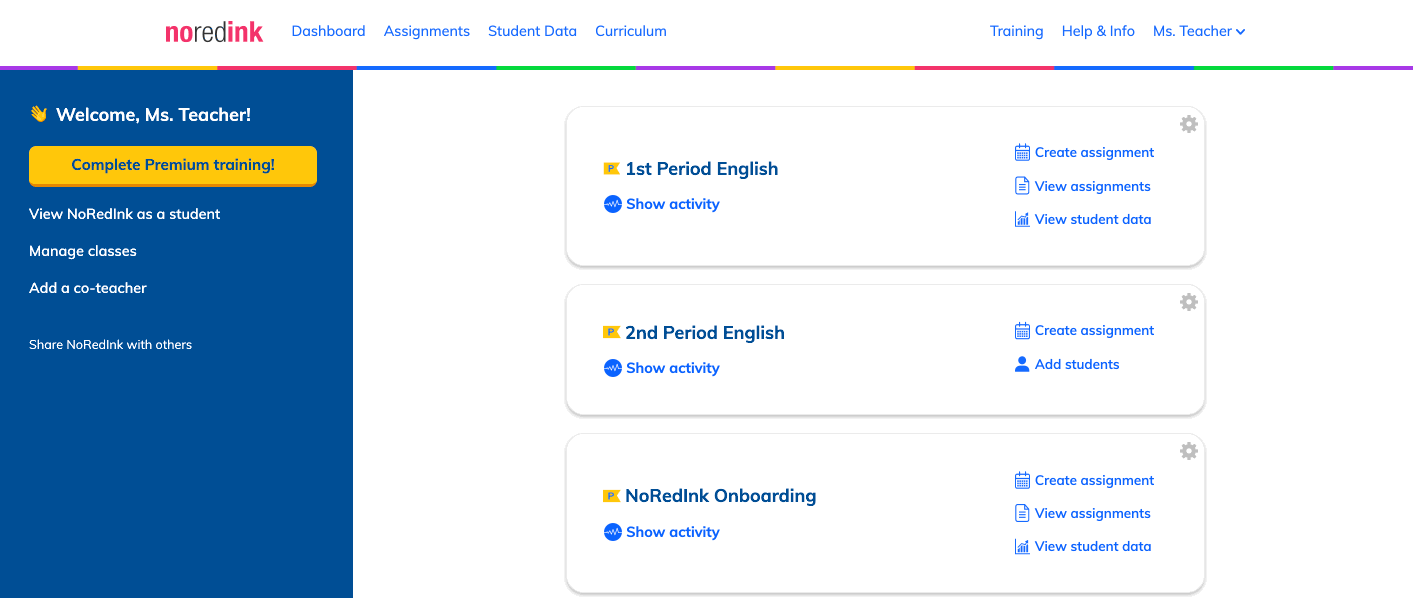 Each student in class only needs to use this link once when first joining the class. Afterwards, they can simply go to www.noredink.com to log in and use the site in the future.
💡To learn more about how student Mastery is impacted by a new semester or school year, check out this article.

Make assignment creation easier for yourself
These tips will help you to create assignments on NoRedInk quickly and easily.
To reuse an assignment from an archived class, follow these steps.
From your Teacher Dashboard, click "Assignments" on the top right of your page.
Use the dropdown menu to select "Your archived classes."

Find the assignment you would like to give to your current students and click the "Reuse" button to the right of the assignment name.


Note that you can filter at the top by type of assignment, and you can collapse each of the months for easier navigation of this page.

On the screen that follows, make any edits as necessary, and click "Assign."
You can share your assignments with other teachers using these directions. This is great for sharing grade-level assignments and diagnostics.
On your Dashboard, Click "View Assignments" next to your class name.
Click the share button next to your assignment name, then click "Share with Other Teachers."
Click "Copy."
Paste the link anywhere to share the assignment template with colleagues via email, Twitter, or any other shareable form!
First, head over to the Curriculum Library by clicking here, or choosing Curriculum at the top of your screen. From the"Featured" tab, you can sort by grade level using the drop down menu to view sets of popular assignments.
Click the "Edit/Assign" button next to the Featured Assignment you'd like to create in order to be taken to the assignment creation screen.
From here, you can make any adjustments to the assignment, such as removing certain topics or adding focus points, as well as choose which classes/students to assign the work to and choose a start and due date.
You can also click "Preview" to view a sample of what students will see when working on this assignment.
Featured Assignments provide a speedy way to get your learners working in NoRedInk without having to start from scratch!
Try new Writing Assignments with prompts and pre-writing materials
Head over to the Curriculum Library by clicking here, or choosing Curriculum at the top of your screen. From the "Writing" tab, you can explore writing activities using the Preview option. To read more about the different types of writing assignments on NoRedInk, check out these articles:
Check out Writing Prompts to get students inspired
For Quick Writes, visit this article to see a list of prompts meant to help students quickly generate ideas for frequent, short bursts of writing. What prompts can I use for Quick Writes?
For full-length essay prompts categorized by genre, check out this article. What essay prompts can I use for Guided Drafts and Peer Reviews? These prompts are especially helpful for Guided Drafts and Peer Review assignments.
Prepare your students with pre-writing materials
Before starting a Guided Drafts assignment, we recommend that students have done some pre-writing and have an idea of what they want to write.
Check out these free optional pre-writing materials! You can use these documents in conjunction with each other, or choose one to prepare your students for the assignment.
Was this article helpful?