Overview
Keep reading to learn about NoRedInk features and resources that can help your students prepare for the  ACT and SAT.
On this page:
Evaluate which skills students need to practice most
On the Planning Diagnostics page, you'll find pre-made planning diagnostics aligned to your state's standards for each grade, as well as to the ACT and SAT.
Your diagnostic results will help you identify which language skills students need to practice most and assign work to reinforce those skills.
From your diagnostic results page, we recommend starting a unit on a given skill and track students' progress through a short diagnostic, practice, and growth quiz. (Check out our Example Unit Plan for one way you could plan units based on the results of a Planning Diagnostic.)
Browse activities that align with the ACT and SAT
To browse aligned activities, visit our Standards & Tests page and choosing the test you're preparing for.
From here, you're able to browse activities that align with ACT® and SAT® standards and view Pathways that are mapped to each test.
Learn more about creating activities using the Standards & Tests page here!
You can also track your students' progress towards mastery as aligned to the ACT® and SAT® by viewing student mastery data with the ACT or SAT filters on. Click here to find out how.
Finally, admins can also use these filters when viewing student progress in Premium Usage Reports. This article provides information on how to access these reports.
Prepare students for ACT and SAT passage editing
ACT and SAT passages allow students to practice the most common types of grammar and conventions questions they'll encounter on the ACT® English Test and the SAT® Writing and Language Test. Learn more about our ACT and SAT Passages.
Prepare students for ACT and SAT essays
When students are first becoming familiar with ACT/SAT essay-writing, we recommend assigning our ACT Guided Drafts or SAT Guided Drafts.
These assignments familiarize students with the tests' prompts and rubrics, and provide timed-writing strategies and examples. Learn more about our ACT and SAT Guided Drafts.
When you feel your students are ready to write without any support, try assigning our ACT Quick Writes or SAT Quick Writes instead. These assignments use real prompts and rubrics from the test, but students will write with no additional support, just like they will on the real test.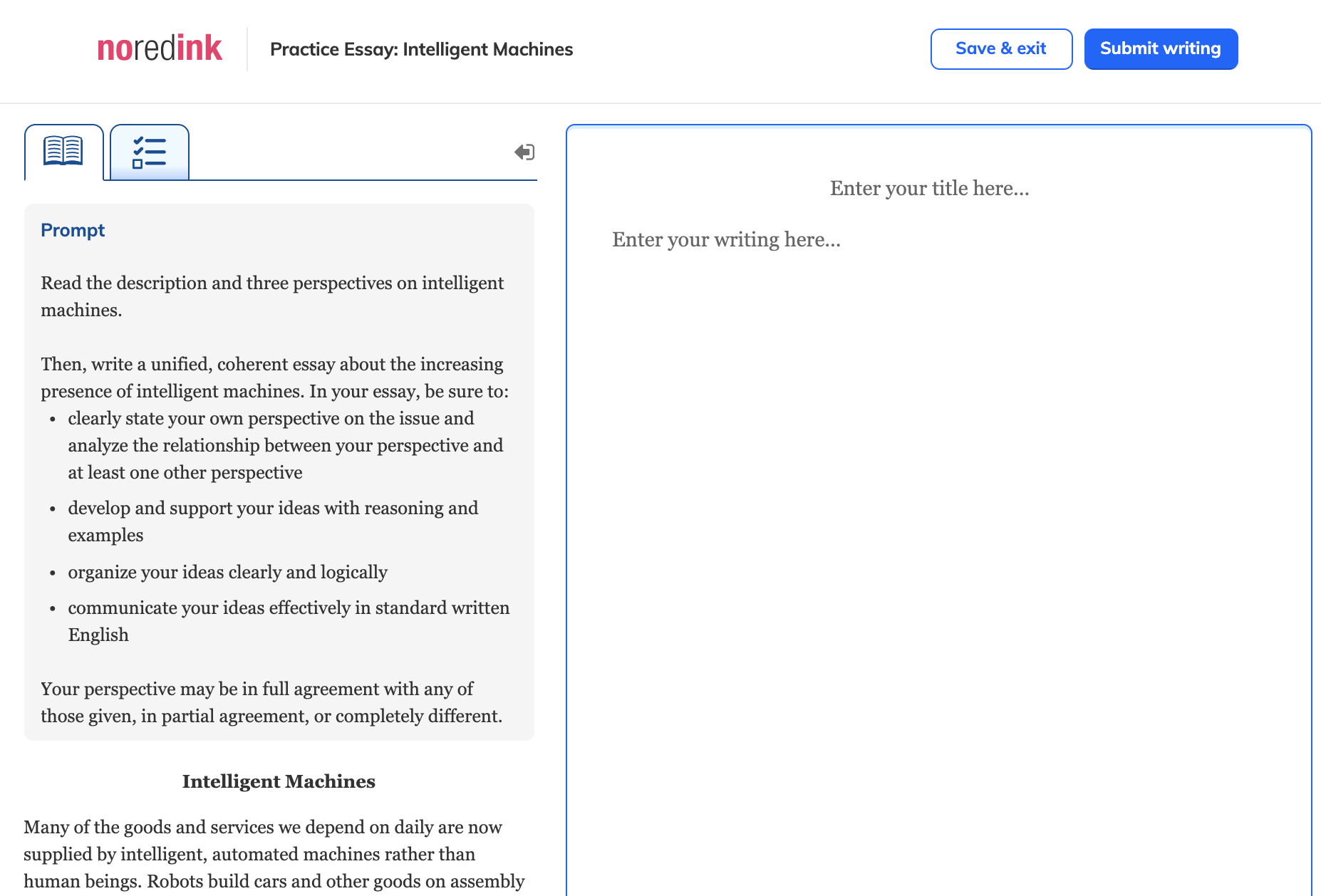 You can find more official SAT prompts here: SAT and AP English Language essay prompts.