As a teacher, you can reset student scores to allow for retakes on Quizzes and Diagnostics. Note that you cannot assign retakes for Practice assignments because Practice adds to a student's individual Mastery. You can always assign more Practice any time!
By allowing a student to retake a quiz or unit diagnostic, you will give him or her the exact same quiz again, meaning the student will see the same exact questions he or she saw before. We generally recommend this when extenuating circumstances or technological problems prevented the student from taking the quiz successfully in the first place.
To assign retakes, go to the "Assignments" page of a course, then click on the blue ellipsis symbol next to your chosen assignment. 
Select "Reset student score" in the dropdown menu. You will then be prompted to choose which students should be given retakes.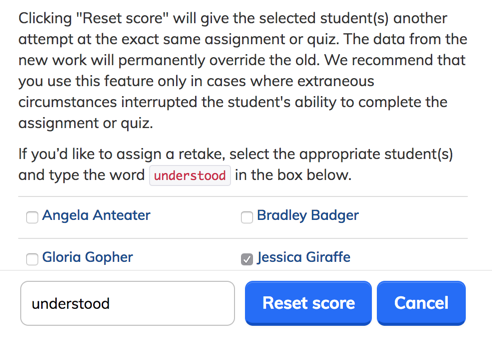 Note that the retake will have the same parameters as the original quiz. For example, if the due date for the original quiz has passed, students will not be able to access a retake. In this case, you would need to edit the assignment's due date before assigning a retake. 
If you would like to reassess a student's work to observe any improvement (without changing any of his or her scores), we recommend assigning a growth quiz. You can do so by selecting the "Create growth quiz" button on your quizzes.