After you've created your account, you generally have two options for adding students: using your class code, or adding them manually.
💡 Using NoRedInk during distance learning? Click here to learn how to get students added quickly!

Option 1: Give students your class code or invitation link
Class code
Give the class code to your students verbally or in writing. Students can then enter the class code while they're signing up for a new NoRedInk student account, or from their homepages if they already have an existing NoRedInk account.
To find your class code, log in to your account, and navigate to "Manage classes". To find your class code, click "Manage classes" in the top right hand corner. Your class code is listed first on the "Details" tab, and also on the "Students" tab, by clicking "Add students" as shown below:
Invitation link
An invitation link is a URL that is pre-populated with your class code for easy student access. It will look something like: https://www.noredink.com/join/class-code-5.
To find your invitation link, log in to your account, and navigate to "Manage classes." Then, click the "Students" tab for the class you'd like, followed by "Invitation link" as shown here: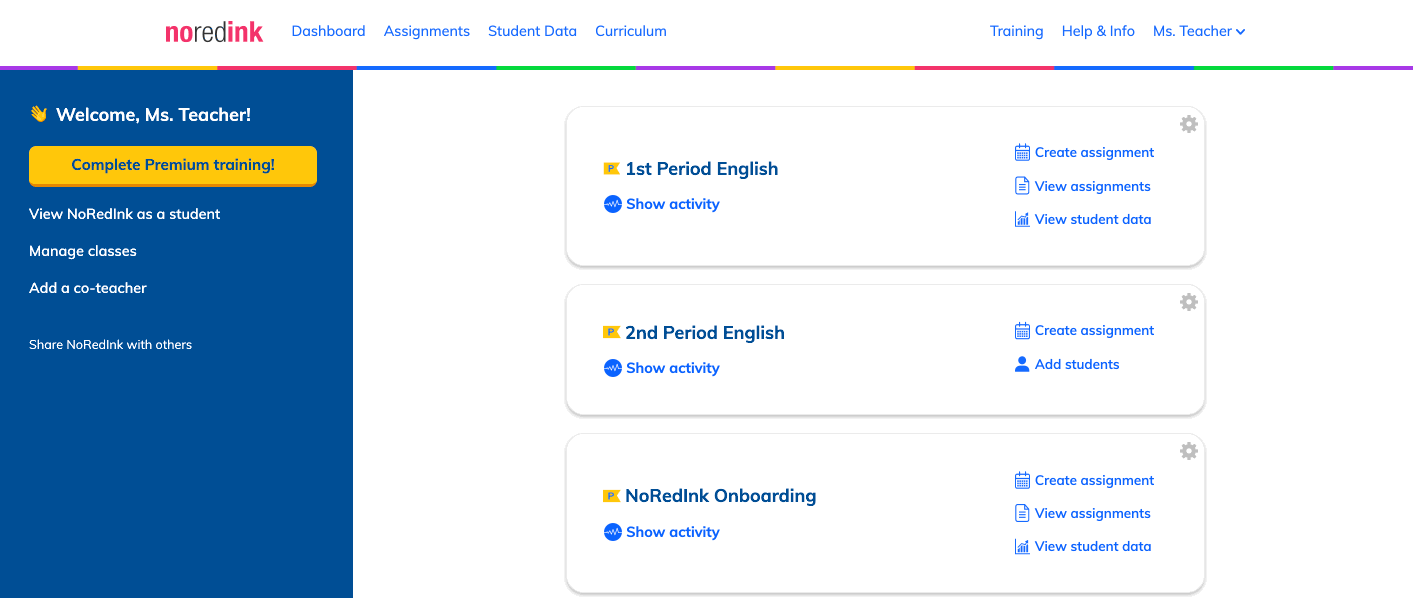 Each student in class only needs to use this link once when first joining the class. Afterwards, they can simply go to www.noredink.com to log in and use the site in the future.
Once a student account is created, it no longer matters which method was used, and students can easily join additional classes and/or drop classes.

For detailed information and more visuals about adding students, visit the Getting Started page and look for our "Get Started" Guides!
Option 2: Add students manually
Click on "Manage Students" and enter students' names manually into each class. This normally takes a few seconds per student. This method will generate students' usernames a default password. You'll need to communicate students' usernames and passwords to them.
Clever-synced classes
Note: Clever integration including automatic course and roster syncing is currently available for Premium users only. To learn more about NoRedInk Premium, click here.

If your school uses Clever login service, your classes in NoRedInk could be automatically syncing with your class roster. If you see the Clever Secure Sync icon as in the image above, you won't see an option to add students. Instead, students will join your class automatically after they log into NoRedInk via Clever or your school portal. Here are step-by-step instructions for logging in through Clever.
Teachers at districts using Clever must log in through Clever in order for classes and rosters to sync properly.
Was this article helpful?