Accessing the Curriculum Library
Curious as to what content is available on NoRedInk?
From your Dashboard, click "Curriculum" at the top of your screen to see our Curriculum Library. There, you can browse through our standards-aligned lessons and exercises.
Using the "Search" feature, you can search for any grammar concept to see what Pathways it may appear in.
Once you've established which Pathway aligns with your unit plans, click on the dropdown menu to see all of the topics that are included. You can dig in to each topic further using the following icons:
Click to see a preview of the "Interactive Tutorial" for the topic, if one is available.
Click to view the sample lesson associated with the topic.
Click to preview the practice as a student.
To preview a writing assignment, first click the Writing tab, then choose "Preview" next to the assignment you'd like to view from the student experience.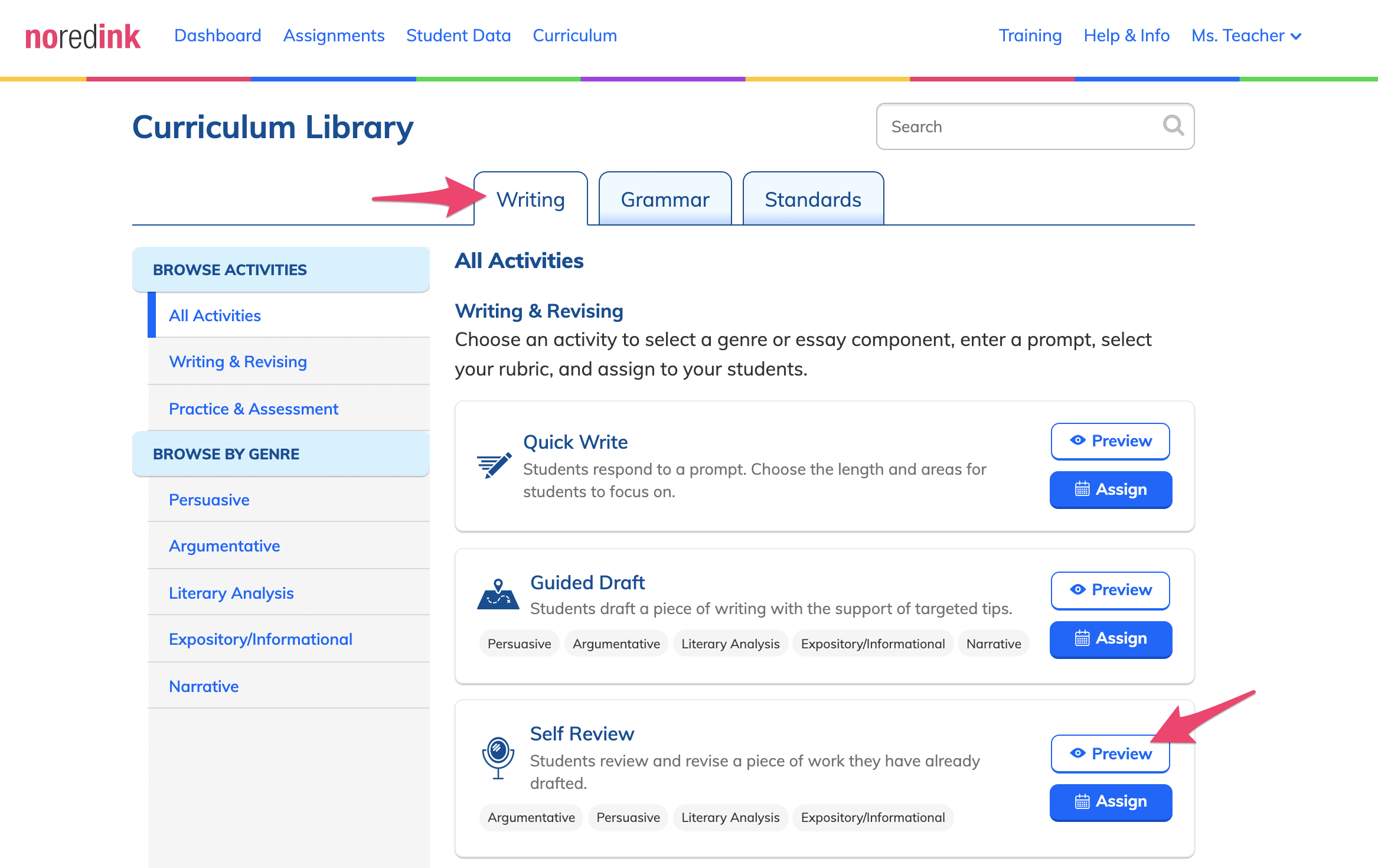 Creating an assignment
Once you've identified the topics you'd like to include, you can create an assignment directly from the Curriculum Library, First, click the checkboxes next to the topics you'd like to include.
💡You can continue to preview sample questions and tutorials by clicking the icons next to topics as you select them!

On the blue assignment panel that appears, choose the activity you'd like to assign. Currently Unit Diagnostics, Practice, and Quizzes can be assigned by selecting topics directly.
After selecting an activity type, finish customizing your assignment settings and select the class(es) or student(s) you'd like to receive the assignment, then click Assign.
💡To get started quickly with a pre-made assignment, you can also check out our Featured tab in the Curriculum Library by clicking here!

Filtering content by standards
Grouping by Grade Level
You can group Pathways by grade level to browse topics that are relevant for different grades. To do this, choose the "Standards" tab, select the "Grade Level" from the left menu, then choose a range using the buttons that appear:
Filtering for NoRedInk Premium
In light of the many school closures due to COVID-19, we've expanded our free offering to include many Premium features, such as standards filtering. No code is required! Learn more here.
If your school has purchased NoRedInk Premium, you can filter our Curriculum search by a variety of national standards, as well as the standards for the state in which your school is located. In addition to their state standards, Premium users will be able to filter by ACT®, SAT®, Common Core, and NWEA MAP.
To use a filter alongside your search:
Click the "Standards" tab
Use the "Browse by Alignment" menu on the left to select one of the standard groups
Use the buttons to enable additional filtering on the type of pathways that you would like to view.
Here's an example using our SAT filter:
Was this article helpful?