On This Page
NoRedInk's assignment form allows you to quickly target assignments to the students who would most benefit from additional practice.
In the image above, Angela and Bradley's mastery levels indicate that they could use a bit more practice to deepen their understanding, while Kyle is ready to try a new topic.
How do I view student levels when creating an assignment?
From your "Assignments" page, click "Create a New Assignment." If you're creating a Growth Quiz, click the "Create Growth Quiz" button to the right of your assignment's name and jump down to the fourth step below.
Select the type of assignment you want to create. Note that this feature is currently available for Unit Diagnostics, Practices, Quizzes, and Growth Quizzes, and it will soon be available for Planning Diagnostics.
Select the topics you'd like to assign.
When you arrive at the "Assign" step, expand your class list(s) by clicking the small blue arrow to the right of the class name(s).
If you'd like, you can click the word "Mastery" or "Performance" at the top of the list to sort based on Mastery or Performance level.

Use the color-coded Mastery and Performance levels to select the students who should be assigned.
What are the Mastery/Performance levels based on?
| | |
| --- | --- |
| Assignment Type | Mastery/Performance Data From |
| Practice, Quiz, or Unit Diagnostic | The student's overall Mastery data |
| Growth Quiz | Comparison to the student's performance on the original Quiz or Unit Diagnostic on which the Growth Quiz is based |
Practice, Quiz, or Unit Diagnostic
When you create a Practice, a Quiz, or a Unit Diagnostic, you'll see students' Mastery data. The Mastery levels are "Beginning," "Midway," "Approaching," and "Mastered."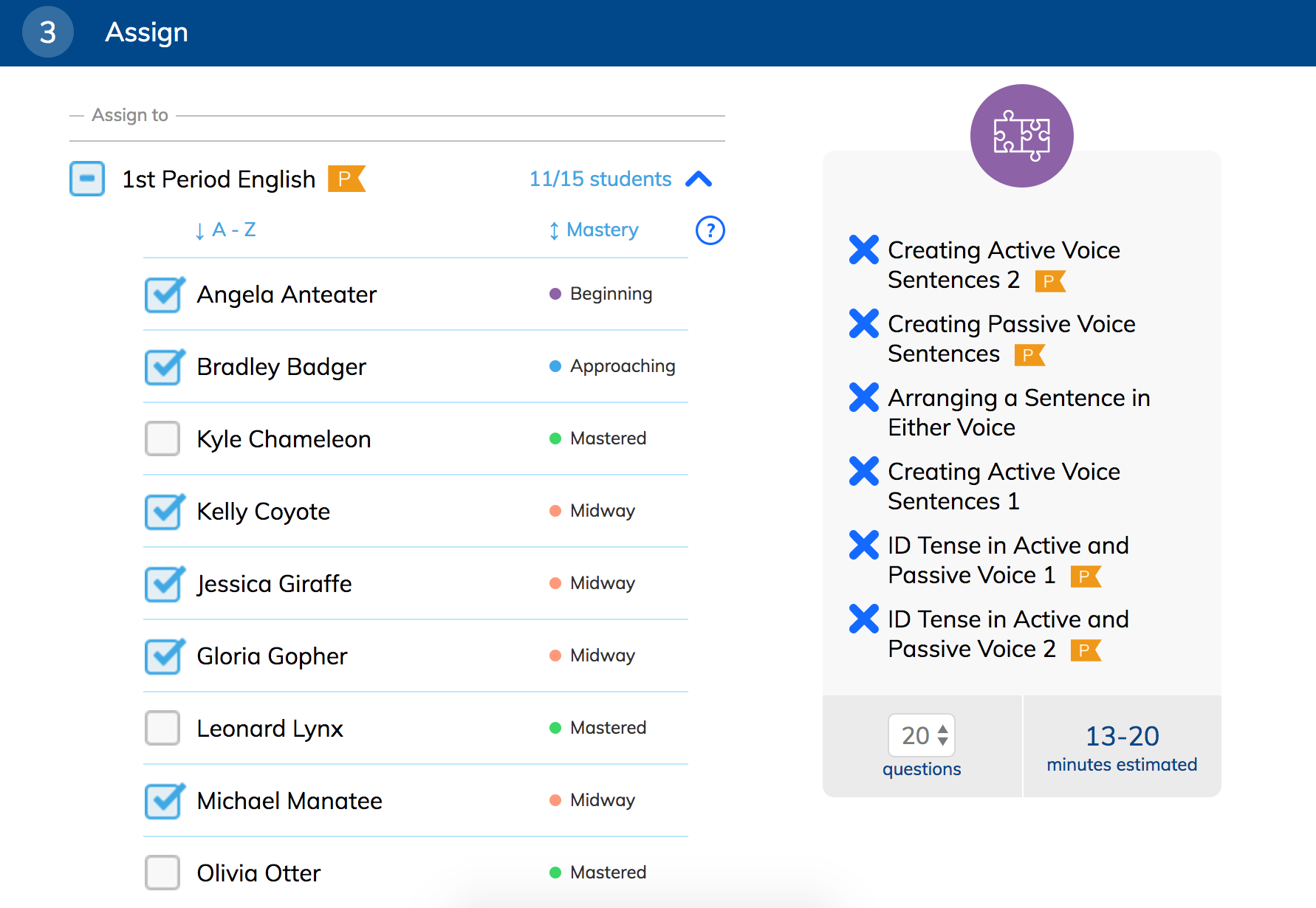 When you create a Growth Quiz, you'll see the students' performance on the original Quiz or original Unit Diagnostic on which your Growth Quiz is based. The Performance levels are "Below Basic," "Basic," "Proficient," and "Advanced."